Nigerians Angry With Fuel Price Hike Hit Fr. Mbaka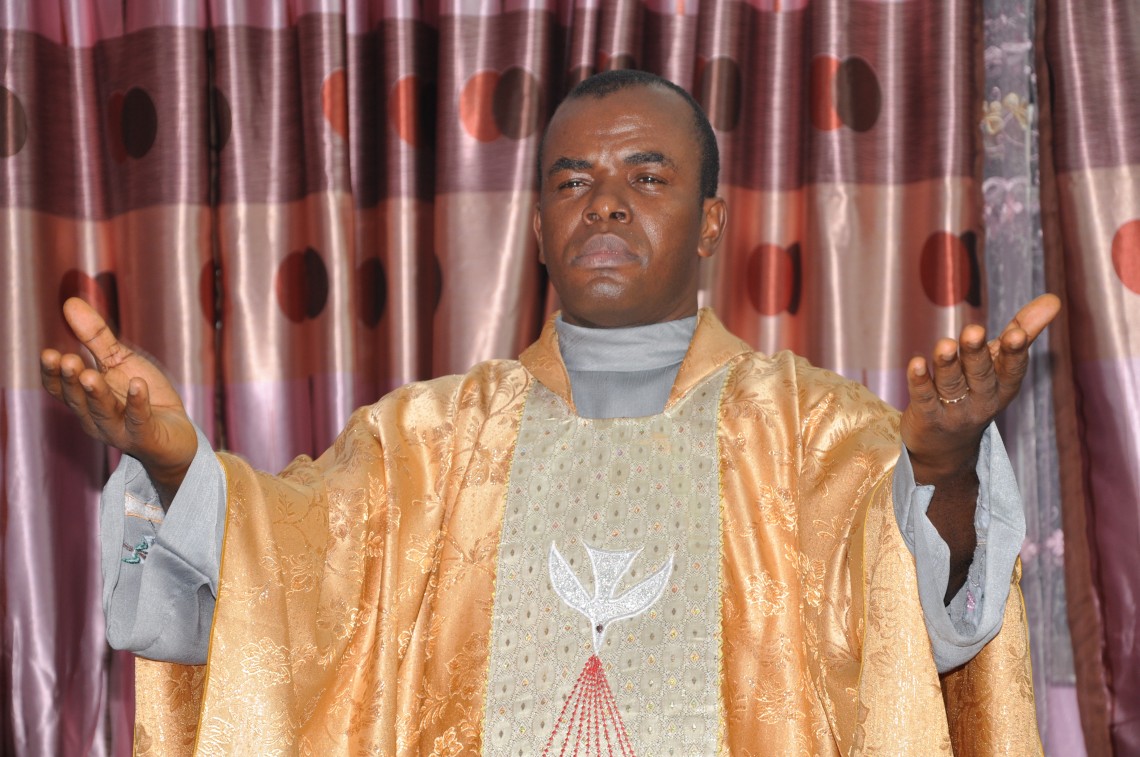 Emmanuel Adigwe
Nigerians hard hit by the fuel price hike have taken to isolating those who prayed for the emergence of the Muhammadu Buhari government for criticism.
One of the foremost spiritual facilitators who has come under purview is Father Ejike Mbaka who has come under criticism on social media.
GWG recalls that the cleric predicted the emergence of President Buhari in the 2015 general election and loudly predicted the defeat of President Goodluck Jonathan.
However, the emergence of the APC administration has not been very healthy for many Nigerians with the security and economic issues that have since challenge the administration.
In Enugu alone, where Fr. Mbaka resides, several priests have been kidnapped and killed and one time leading to protests by the Catholic priests.
Mbaka has now been taken to task that if he saw the advent of the Buhari administration and challenged whether he saw the difficulties that would come with the administration.
The latest increase in the price of fuel has further put Father Mbaka on the spot with twitter users asking for his whereabouts.
Here are some of the tweets:
IamMaziMustaphaOlajidejoe@joemoneke wrote: "Please where is Rev fr Mbaka now? We need to ask him some questions, abi God don swap the Buhari he prophesied about?"
Reno Omokri@renoomokri wrote: "If anyone had told me that General @MBuhari would increase fuel price to ₦162 and: * @ObyEzeks * Mbaka * Soyinka * Tinubu * Oshiomhole Would be silent, I would have called them a liar. Alas, those who shut down Nigeria in 2012, have today shut their mouths! #BuhariTormentor."
Abbey lanre@Abbeylanre20 wrote: "Soyinka is 86, Father Mbaka is an APC clergyman, Tinubu and oby wants to be our next president.. how do you want them to antagonize the president… Follow me for a follow back immediately."
heskeyw11@ArinzeEzeimo wrote: "Now is the best time for Rev Father Mbaka to say something.'
hydrochloric UCH @WalkerSavvy8 wrote: "Una don come again, why mbaka no dey the background?"
Gentleworld182 Kk@gentleworld182 wrote: "If pastors like Adeboye (Redemm) Oyedepo(Living faith), T.B Joshua( Synagogue), Oyakhilope (Winners), Adefarasi (House of rock), Mouka(Chosen), Suleman, Orisejafor- World of life, odemje, Mbaka, Chris- Huz of God etc shud all convene in Kaduna with members this killing will stop."
Sunter@babajayx1 wrote: I never knew that Pst. Bakare, Fr Mbaka, Tinubu, Atiku, Saraki, Soyinka, Falana, NLC, TUC, Pengasan, NANS, market men & women, Nollywood actors, Nigerian musicians & especially KWAM 1, & Nigerian Youths could be this quiet under Buhari terror reign, their zeal for protest is gone."
onyewuenyi richard mark@MarkOnyewuenyi wrote: "All those yeruba pastors, authors and actresses and prominent people that protested against my brother Goodluck, where are they today? They can't protest any more, tunde Bakari and Mohammed Mbaka how far? Save Nigeria now, revolution now. hypocrites. God punish all of you."
Lord LoseGuard@angryNaijakid wrote: "Thunder fire Father Mbaka."
Uncle T@IfechukwudeAnt1 wrote: "Abeg who know where Father Mbaka dey???? bastard, he is nowhere to be found oh GEJ was his problem in 2014."
OLUWA EZIGBO MMADU @Ezigbo_mmadu wrote: "My opinion is that Mbaka should do Give away, from the Money he cashed out. From that Prophecy ooo…'