Ize-Iyamu Too Intolerant To Be Governor – Obaseki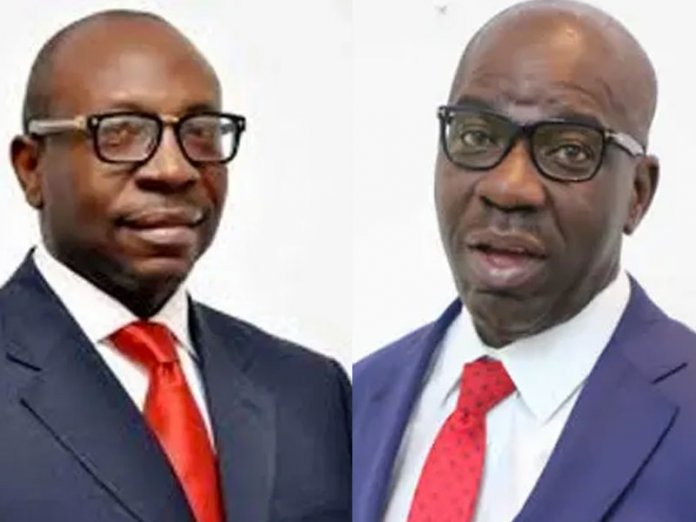 Governor Godwin Obaseki has chided his rival in the Edo State governorship election, Pastor Osagie Ize-Iyamu of the All Progressives Progress (APC), Osagie Ize-Iyamu of being too temperamental to govern.
He spoke in reaction to Ize-Iyamu's decision to pull out of the BBC debate after he, Obaseki excused himself for other duties.
Speaking through a press statement issued by his Special Adviser, Media, Crusoe Osagie, he said:
"The APC candidate displayed a high level of arrogance when he refused to debate with the Edo State Deputy Governor, Rt Hon. Comrade Philip Shaibu, who was asked to stand in for Governor Godwin Obaseki, during the BBC Pidgin English Debate programme broadcast on Friday night."
"Governor Obaseki started the debate with the other participants, but notified the moderator of the programme that he would not be available for the whole session of the programme, as he needed to urgently attend to an important issue of state.
"One would have expected that the APC candidate who is aspiring to occupy the exalted seat of Governor of Edo State, would accept the honest excuse given by the governor and continue the debate with the deputy governor.
"But he exhibited his arrogance before a global audience and started throwing tantrums, behaviours unbefitting of someone campaigning to be the Governor of a state."
"Edo people know that Governor Obaseki has tremendous respect for Edo people as he has granted similar interviews on several platforms in the last two months, including those organized by individuals via online platforms," he added.   
Send Us A Press Statement Advertise With Us Contact Us