Ngige Excommunicated From Hometown!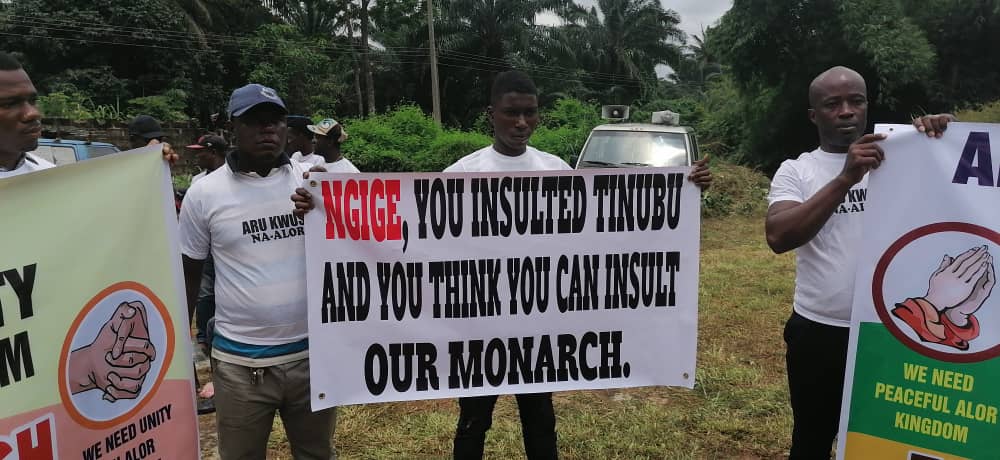 The People of Alor Community in Idemili South Local Government Area of Anambra  State, in their thousands on Saturday, staged  a heavy protest against one of their sons, Dr. Chris Ngige the Minister of Labour and Employment.   
The protesters including youths, aged mothers and fathers of the community, were led by the President General of Alor Peoples Convention Caretaker Committee, Hon. Chris Okudo whose Committee is appointed and recognised by the State Government.
In a speech during the protest, Hon Okudo on behalf of the community expressed their disgust and disappointment at the actions of Dr. Chris Ngige. They alleged that for some years now Dr. Ngige had engaged in activities causing acrimony, bitterness and hatred in the community.
Hon Okudo said that the community has rendered enough of the subversive actions of Dr. Ngige which they claimed has brought hardship and disunity to the town as some brothers and sisters no longer work together for the development of the town because Ngige had introduced a system of separation and misunderstanding amongst the people of Alor town.
He emphasised that the Igwe of the town has always been neglected and subjected to public ridicule through some publications in print electronic and social media sponsored by Dr. Ngige who does not accord any atom of respect to the traditional ruler of the town who was duly presented to the State Government by the entire Alor Community and recognised by the State Government.
He said that the formation of a parallel Town Union in the community known as the Alor Poeples Assembly was one out of many rebellious actions of Dr. Ngige against the people of his home town.
In a traditional mourning outfit, the Chief Priest of the community performed some libations and traditional actions which they claimed was a way of burying indigenes of the community who have sinned against the gods of the town and have done things that are against the land and culture of Alor Community. They claimed that after such functions the individual in question cannot have anything to do again with the living in their community hence he has been excommunicated from the entire community and nobody from the town will ever visit his compound for good or bad.
The protesters carried placards some of which had inscription like NGIGE ENOUGH IS ENOUGH. WE WANT PEACE AND UNITY IN ALOR ALLOW PEACE TO RIGHN IN ALOR DR. NGIGE. WE HAVE NOTHING TO DO WITH YOU IN ALOR AGAIN.
Many other notable sons and daughters of Alor who came from different parts of the country to join the protest also spoke at the event maintaining their stand on the excommunication of Dr. Ngige and total condemnation of what they alleged as his rebellious activities in Alor Community various women groups and dreaded masquerades of Alor community carved with the facial look of Dr. Ngige also participated in the protest march.