Erica Disqualified After Criticism Of Bad Conduct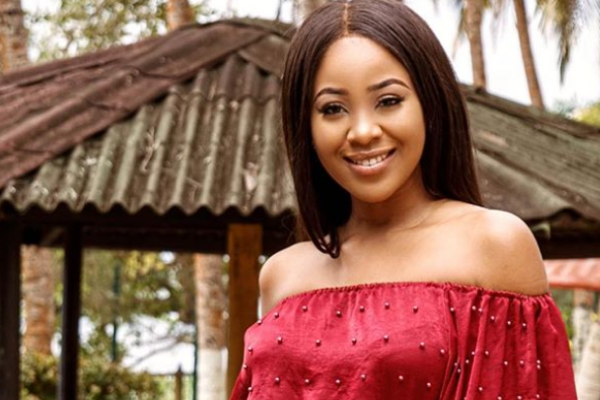 Emmanuel Adigwe
Big Brother Naija housemate, Erica, who was on Sunday disqualified from the house has come under heavy criticism from some Nigerians who condemned her actions after Saturday's night party.
Erica first of all had a little squabble with fellow housemate and lover, Kiddwaya, as he was getting too comfortable with another housemate, Nengi. Erica had disrupted the dance move between the two and later confronted another housemate, Laycon, over claims that he tried to kiss her.
Both Laycon and Erica have been keeping their distance as their friendship has become mortuary-cold but yesterday evening after the party, Erica accosted the aspiring musician and threatened to cause him bodily harm and have him killed.
This development elicited reactions from many Nigerians as they took to Twitter berating the actress for her actions while some asked that she be disqualified.
The organizers heeded the call and disqualified her on Sunday.
Here are reactions on twitter to her behaviour:
ebele.@ebelee_ wrote: "Things aren't always linear and people should be able to acknowledge and accept the existence of multiple truths in one situation. Yes, Erica crossed the line. Yes, she needs help. Yes, she needs to leave the house."
Duke of Ibadan @AsiwajuLerry wrote: "As it stands now, Erica has dragged – Lucy – Wathoni – Nengi – Laycon – Dorathy – Prince – an attempt to drag Biggie – Her Parents By 7pm, Ebuka go chop hin own. When she comes out, all of us go chop our own too."
thisTEMI@thisTEMI wrote: "Sadly, you'd still find those foolish brands that think "all publicity is publicity" and will want Erica as their ambassador. I hope she pours water on your CEO's bed one day sha."
Lord_Clint @LordClint1 wrote: "Y'all remember when Erica fans were tagging Ebuka to ask Laycon what he means and when Erica wanted to kiss him They wanted him to be disgraced infront of everyone but now look at who is feeling the heat. Never throw stones if you live in a glass house #bbnaija #BBNaijaLockdown."
~DIANE~@First_LadyDee wrote: "This is the genesis of Erica's madness last night and early hours of today..An actress is acting up, don't blame biggie about any mental health, I'm sure they were all medically fit to be in that house, if there was need for it Biggie acts on time. #BBNaija."
Edmund @EdmundOris wrote: "The bad part about this Erica's tantrums is that it'll only get worse from here on. If she gets disqualified and come out to find out the massive crowd that Laycon has, she wouldn't believe it and wouldn't be able to handle it, she'd relapse again."
Ryan B(Laycon)@RyanB17671496 wrote: "Laycon's name has been attached with a lot of Evil From being called a rapist by Erica's fans Now Erica wants him dead Father Lord, protect your son #Bbnaija #Laycon."
Jay Jay David@Joshuauy757 wrote: "Since Erica Said She Didn't Ask To Be In The Big Brother's House, Elites would soon get Insulted by their mentally deranged queen because she would say "she didn't ask for fans or she didn't asked to be on BBNaija Show",I'm sure Elites tears would flow into Atlantic Ocean by then."
Miztem@Miztem2 wrote: "Erica bodyshames laycon and Hellites all laughed saying he deserved it. Now she has attacked Prince, called Dora her enemy,insulted the show and even wants to confront Biggie. The narrative has suddenly changed to mental problem. Mental yen lo ma paa Las Las #BBNajia #Bbnaija."
Find x@gbengene_Kulala wrote: "Y'all ain't playing the mental health card on our watch! Wathoni was jealous, Lucy is problematic but your star girl Erica has mental health problems after taking Gordons like its water. Y'all didnt think of Laycon's mental health when he was insulted #BBNaijaLockdown."
Odinaka @mr_salmanbash wrote: "Erica's fans always bullying Ebuka to ask this and that, are y'all happy now? See what those questions have done to your fav We want her to know how other Housemates feel about her yen yen yen… #BBNaija."
Baldilocks@Baldilocks__ wrote: "This is no longer funny. Erica needs serious help cos she's beginning to exhibit some weird personality disorder traits."
#Just-Have-Sense@hadedayor07 wrote: "Biggie please open the door for Erica, it is not too late to get Uber this night. She is tired of your show she wants to go home. Won ti get omo yi ooo, big time. Aiye ooo!"