Fr Mbaka Under Fire Over BBNaija Comment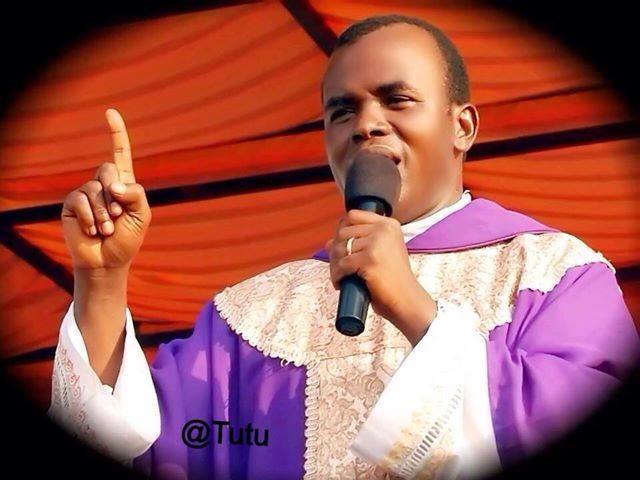 By Emmanuel Adigwe
Popular Catholic priest, Father Ejike Mbaka, has come under severe criticism for comments he made concerning the ongoing Big Brother Naija reality show.
GWG had reported the brawl between a now disqualified housemate, Erica and a fellow housemate, Laycon, after Saturday's night party.
The cleric in a video that emerged online on Sunday was seen praising Laycon for his silence and he stated that Erica has lost the 85 million naira grand prize because of her actions.
This development has sparked reactions as some Nigerians are surprised that the priest even watches the BBNaija show which has been seriously condemned by other clerics for its immoral content.
Here's what some had to say:
2E Continental Concept Nig Ltd.@EmeribeEjike wrote: "Finally Father Mbaka Has endorse #Laycon… Pls #BigBrother Should just gv #Laycon The 85m and let call it a day."
OluwaTara_Omo'Akin@T_OmoAkin wrote: "Rev. Father Ejike Mbaka praising Laycon for his Silence treatment towards Erica last night. Woww!!! Icons this is huge, man of God praising Laycon . Oh my God."
iCON Tosin Olugbenga@TosinOlugbenga wrote: "Father Mbaka is not talking about the suffering and hardship citizens are experiencing under the oppressive govt of Buhari but has time for #BBNaija His problem is with Erica. Some people's priest! #BBNaijaLockdown."
Mayor of Mbaise@ChinyeakaIkenna wrote: "Pope, there's one Reverend Father in this Nigeria that doesn't represent or portray anything good about the Catholic Church. His name is Father Ejike Mbaka. Kindly look into his matter. The man openly supports oppressive regimes and prophesies for the highest bidder in elections."
Busola A-A@busolaidowu wrote: "Father Mbaka watches big brother??"
#BBNaija Big Brother Naija@BBNaija_Latest wrote: "Rev. Father Ejike Mbaka praising Laycon for his Silence treatment towards Erica last night. Woww!!! Icons this is huge, man of God praising Laycon . Oh my God."
Chinny@Chinny_Shuga wrote: "So father mbaka is watching big brother. Incredible!"
Comr.Jessica ògwàtà@WomenvoiceNG_ wrote: "Father Mbaka cannot not talk about Kaduna killings but can talk about #Erica & @bbnaija. But what of Southern Kaduna killings? Of course Catholic Churches are OK with CAMA law because their funds are handled by Church Committees, in a transparent & accountability manner."
Oge Chik@ogechiks wrote: "Father Mbaka And Apostle Suleman Release September Prophecies."
EasterN Race@RaceEastern wrote: "People who are still following Rev. Mbaka can't ask him about Buhari being prayer answered. Is Buhari still the answered prayer? For us in IPOB, he's prayer answered. But, Mbaka who thinks that Buhari will take Nigeria to the promised land missed it."
Comrade Onyekachukwu@Iraborchijioke wrote: "Mbaka is just a Petty Priest that has been misleading a lot of true Christians in Enugu and Nigeria in general.. A Man who lost his voice in the Sight of God, the day he indulge in Political Affairs covertly.. Those wailing are the set of selfish persons who brought evil to Us."