Somali Bastard! Pastor Ibiyeomie Hits Daddy Freeze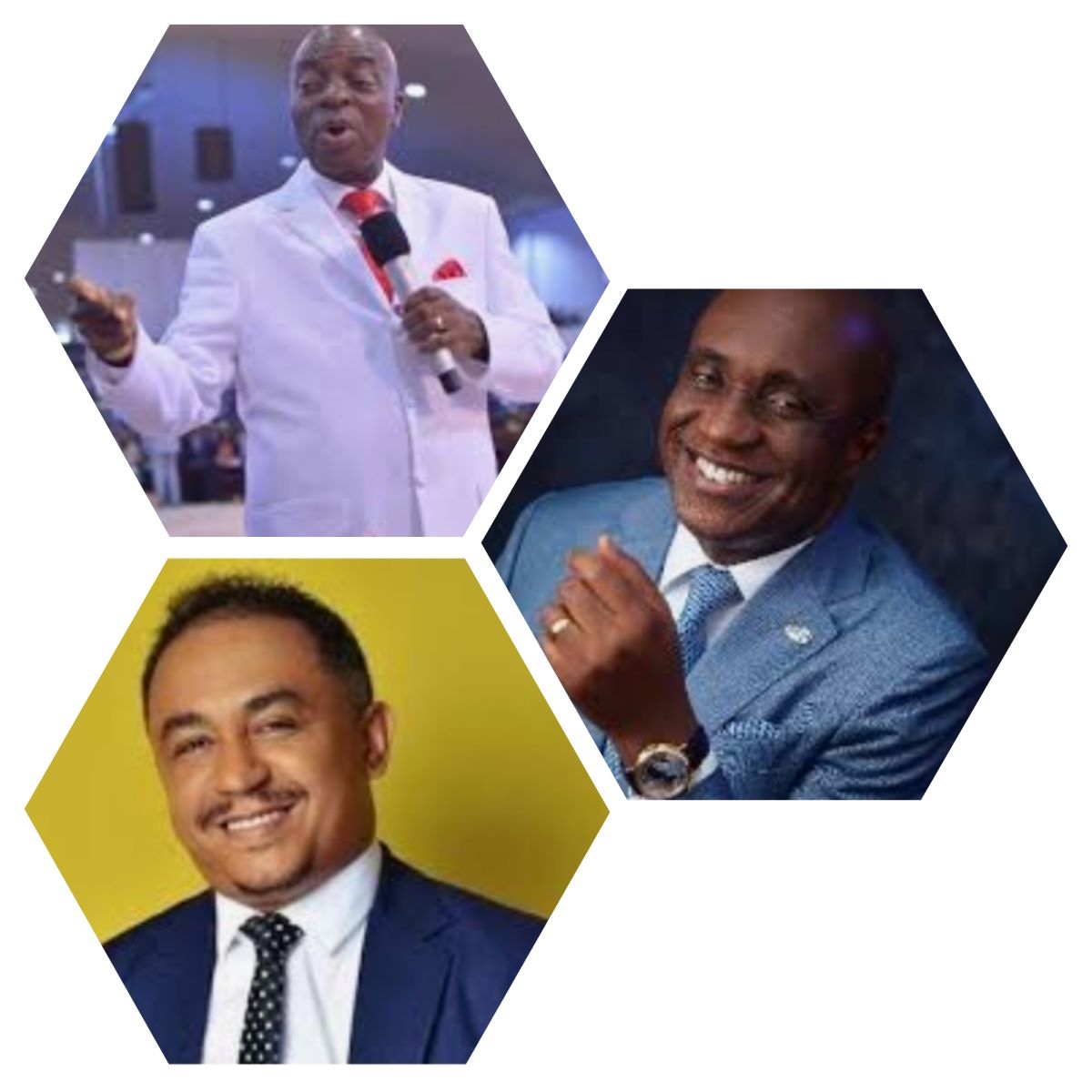 By Ayodele Oluwafemi
General Overseer of Salvation Ministries, Pastor David Ibiyeomie, has stirred social media controversy after tongue lashing controversial media personality, Daddy Freeze for abusing Bishop David Oyedepo.
David Freeze, who has carved a niche in attacking Nigerian pastors over tithing and other issues, criticized Oyedepo for his stance on women being submissive to their husbands.
Reacting to Daddy Freeze's comment about Oyedepo, Ibiyeomie, in a viral video, said he would not keep quiet while Daddy Freeze insults his spiritual father, Oyedepo, saying that those who have fathers do not insult fathers.
In the now-viral video, Ibiyeomie said, "Insult me, I will not comment, insult Oyedepo, I will tear you into pieces, that ba******, any day I hear him talk about Oyedepo again!
"Do they know his father? Does Daddy Freeze have a father? That half-caste who is born by Somalian."
Refferring to Daddy Freeze, "The day I hear him insult Oyedepo again, I will deal with him. Oyedepo may not talk, I cannot be alive and you insult my father. Who gave birth to him? If he has a father, let him show us his father's picture. Someone they gave birth to in a ship.
"I curse the day he was born. Oyedepo may not talk, I cannot be alive you insult my father. I will tear you into pieces. People who have fathers do not insult fathers, he is insulting him because he has no father.
"A man whose wife left him, has no good job, a broadcaster, and will be insulting my father and people will be laughing online. I will never be alive to see such and do nothing again."
Daddy Freeze whose real names are Ifedayo Olarinde was born of a Romanian mother and a Nigerian father, though Ibiyeomie describes him as a bastard of Somali parentage.
He describes himself on twitter as "light bringer, Servant of Yahweh most high, Scripture Scholar. Convener, #FreeTheSheeple Movement, Leader, #FreeNation. 1st Nig Nickleodeon award winner."
The video clip of Ibiyeomie's comments has appeared on the microblogging platform, Twitter, sparking mixed reactions.
Some argued that the cleric's comments about Daddy Freeze should not be made by a pastor on the pulpit, noting that the cleric is doing the same thing as Daddy Freeze.
@SAMKLEF tweeted: "Where is your Anoithing man if God ? In as much i don't agree with daddy freeze this man is not a man of God but a man of man…how can u speak In this manner from the pulpit u no even respect God….How una see am?"
@Olaneewaju tweeted: "Bastard? No father? Doesn't have a good job? The congregation hailing him? Curse the day he was born? I don't think Jesus Christ would have acted this way though. A new low from the Pastor. You could have done better by addressing the idealogies Daddy Freeze speak against."
Some stood in defense of the cleric, asking those who are playing the "pastor" card to stop doing so that the cleric also has freedom of expression to say whatsoever he wants just like Daddy Freeze.
@nisimimike tweeted: "Even when Daddy Freeze uses is "freedom of speech" to insult and ridicule others, that is fine right? If it is, then Pastors too have freedom of speech. Do you know Daddy Freeze uses more hash words on people who opposes his views?"
@Zurielcloset tweeted: "Daddy Freeze abi Freezer should go and sit down sef.. He talks too much and nonsense at same time.. Judgement is of God. All this pastors don't force anyone to give offering or tithes, If you don't want to give, don't give, why insulting pastors? .y'all should go she rest abeg?"
See reactions: