El-Zakzaky In Danger Of Death In Prison – Supporters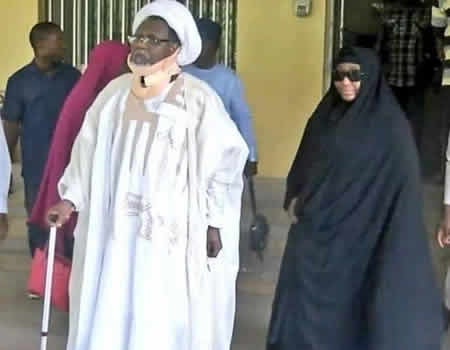 By Ella Makondo
The Islamic Movement of Nigeria ( IMN) popularly known as Shiites has demanded an unconditional release of their leader Sheikh Ibraheem El-Zakzaky and his wife Malama Zeenah, saying their health was deteriorating.
At a Press briefing held in Abuja, the President of the Academic Forum of the IMN, Abdullahi Muhammad Musa, warned that unless the remnants of bullets in his body were treated, things might continue to get worse.
According to him , the continued detention of  the Sheikh  and his wife  in a highly  congested   Prison in Kaduna  State   without access to quality health was a clear intention by the government to harm them and an abuse of their fundamental human rights .
He said the forum was deeply concerned over the deteriorating health of its leader and his wife, Zeenat in the prison despite untreated bullet injuries they sustained at the hands of the Nigerian army.
"In view of the deteriorating health of Ibraheem Sheikh El-Zakzaky and his wife Malama Zeenah, we are demanding an unconditional release of the couple, " Musa said.
"Take for instance the aborted trip to India, after a travel permit was granted by the court, moves were made by the government to frustrate and sabotage it by substituting his own personal team of physicians with a very unusual set of unfamiliar doctors raising the suspicion of the Sheikh and his wife of further compromise of their health and security.
"On return from the aborted trip, the Buhari's regime defied all and transferred the ailing Sheikh and his wife to the unhealthy prison in Abuja where doctors lack proper access and even facility to treat them," he said.