Buhari Flayed Over Attack On Abuja-Kaduna Train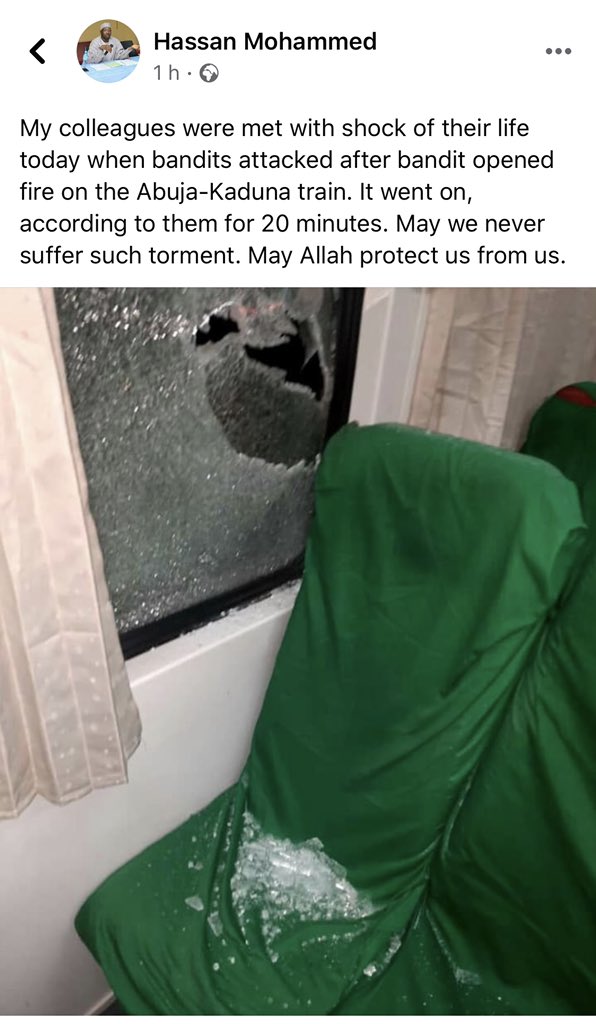 By Ayodele Oluwafemi
President Muhammadu Buhari and his security points men were on Tuesday facing fresh round of criticism after pictures emerged online of a an Abuja-Kaduna train that was attacked by bandits on Monday.
Though some government officials were trying to deny the report of an attack, the pictures circulating online have led to more skepticism of the security architecture espoused by the Buhari administration.
It was gathered that some bandits attacked a train along the Abuja-Kaduna rail line shattering window screens of the train, as passengers scampered for safety.
Pictures of some section of the train windows shattered by the bandits have appeared on the social media.
The Abuja-Kaduna highway has snowballed into a hotspot of kidnapping and banditry, in recent years creating fears in the minds of commuters plying the road.
@bulamabukarti tweeted: "When the Abuja airport was renovated in 2017 and flights were diverted to Kaduna, heavy security was mounted on the Abuja-Kaduna road. No SINGLE incident of kidnapping or killing was reported throughout the period. But the security was withdrawn once the Abuja airport was reopened."
@AbdulfatahAdnan tweeted: "Gunmen attacked Abuja-Kaduna train twice on Monday no where is safe in this country… Safety and security don't just happen, they are the result of collective consensus and public investment. Safety isn't expensive it's priceless and the government need to do something about it."
@FS_Yusuf_ tweeted: "You insult me for saying the truth about Buhari's regime – I will return to say more. Oya, Come travel via Abuja-Kaduna expressway to and fro, let's see. Prove your claim. 😂"
@jhabeer_abdul tweeted: "May God protect us as we pass through Abuja-Kaduna road. Only God can save us not Nigerian soldiers or police since we aren't politicians or rich people."
@SodiqTade tweeted: "APC preparing for election;1. Deploy 35 CoP to a single State.2. Approve a scheme to support the state residents days to election. 3. The scheme to be chaired by the wife of the candidate. APC reacting to Abuja-Kaduna insecurity;1. No police, nothing.
2. Blame the people."
@STARSFLYZI tweeted: "Boko haram attacked Abuja-kaduna train yesterday,instead of the fed govt to say the truth they are lying to Nigerians that it was a stone throw that shattered the train. Hopefully when boko haram will derail the train one day & kill people they will tell us it's chinese spirit."