Your View Ladies Disagree On Husband Beating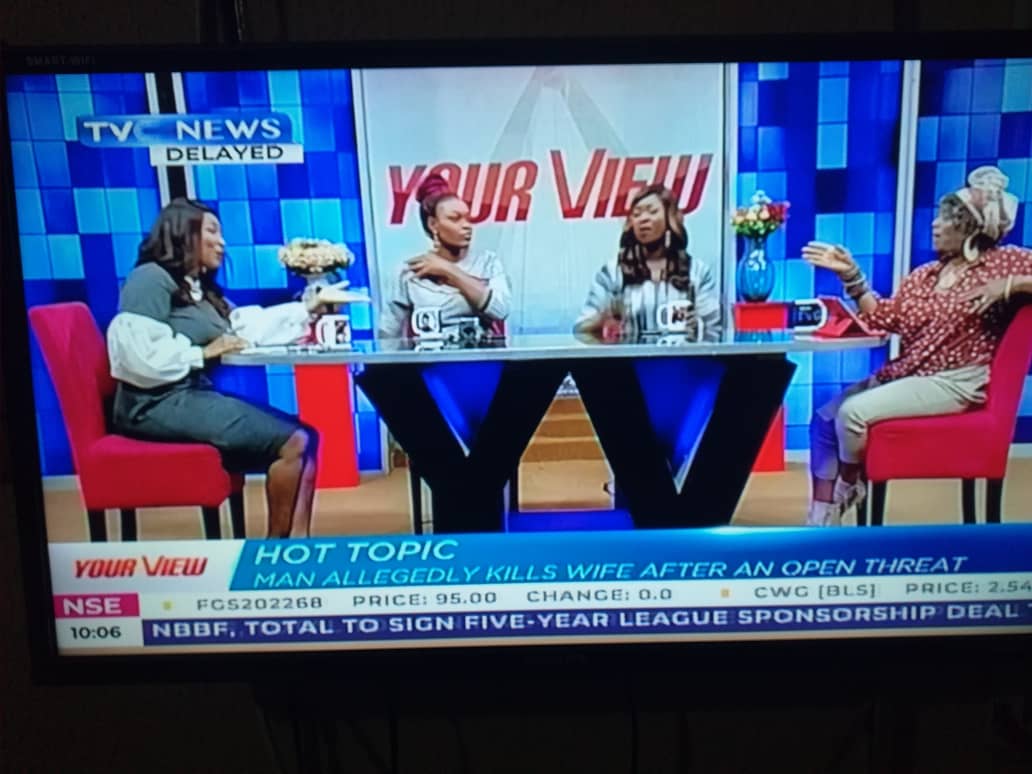 By GWG Staff
The lady hosts of the popular TVC programme Your View were on the spot on Tuesday morning after a fellow host subjected them to the deeply personal question of how they would respond to domestic violence from their individual husbands..
The programme which offers opportunity for guests to contribute and express their views on the show made a swift and deeply personal turn to the presenters after Ms. Yeni Kuti, daughter of music legend Fela Anikulapo Kuti, pushed the question from viewers to her fellow presenters.
The programme had been discussing the action of a supposed Nigerian pastor in the United States who went to his wife's office and shot her dead.
It was the consensus of the presenters and of many callers that ladies should read the first signs of domestic violence and prepare to avoid a second occurrence as it was generally said that it could end on a fatal note as with the case of the Nigerian couple in the US.
As the presenters and callers charged victims to read out the signs, Ms. Kuti threw the question at her fellow presenters.
Ms. Obaijulu Ugboh was quick to assert that at the beginning of her marriage that she reached an agreement with her husband that it would never happen and from her university days with her spouse that it was a forbidden ground.
According to her should it happen she would walk out even as she affirmed that she had never suffered domestic violence from her husband.
Mrs. Tope Mark-Odigie on her part said she would not walk out in the event of domestic violence from her husband. While saying that she had not suffered such before, she said that should it happen that her husband lay hand on her, it would have been that she, Tope, may have pushed him to the extreme and done some very terrible odious thing.
Following her it was the turn of the chief host, Mrs. Morayo Afolabi-Brown. However, she opted to go for a break raising a stir, but she was quick to assert that she was not escaping the question.
Following the break, Mrs. Afolabi-Brown confronted the question and firmly said that she would not walk out of her marriage if her husband should lay hands on her.
She said that while she cannot contemplate her husband doing such a thing given his reputed calmness, she like Tope, said that only an act of extreme provocation on her part could cause her husband to lay hands on her.
Send Us A Press Statement Advertise With Us Contact Us