Oyetola Speaks As Youths Protest Death Of Yahoo Suspect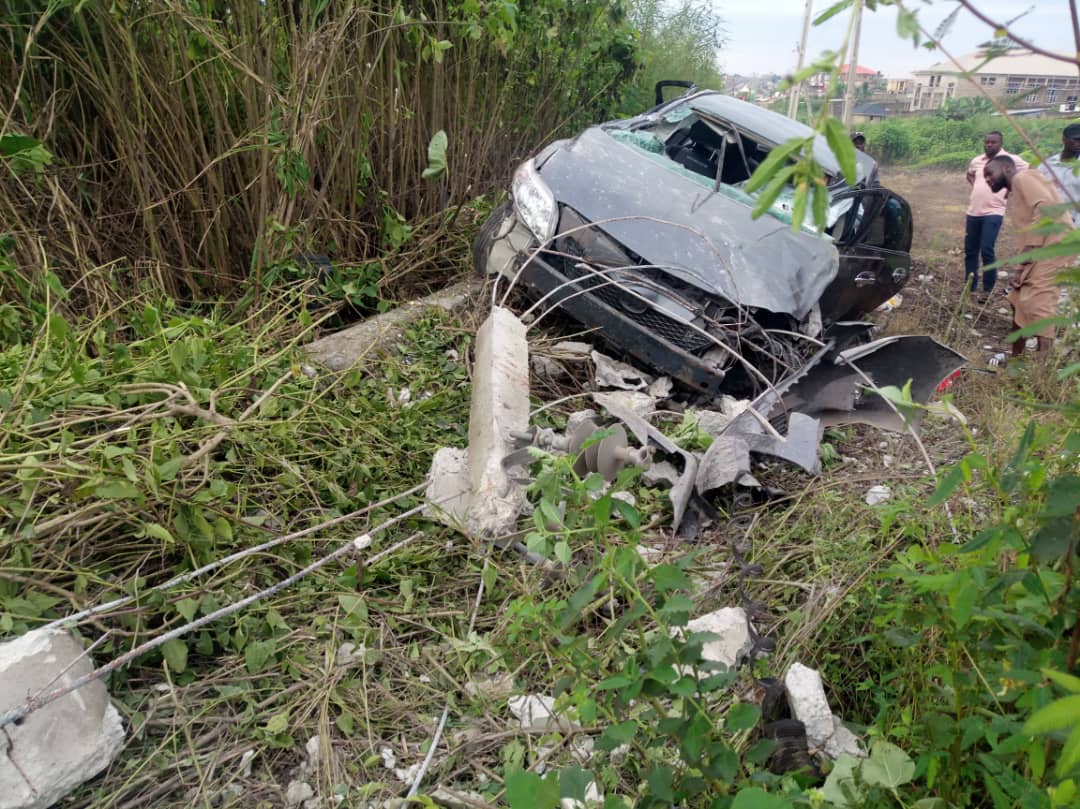 By Emmanuel Adigwe
The Special Anti-Robbery Squad (SARS) is in the news again after its operatives reportedly caused the death of a young man during a chase.
The alleged suspect who was fleeing the SARS operatives in a Toyota Corolla died after his car veered off the road and hit an electric pole.
According to media reports, SARS operatives pursued a Toyota Corolla car with four occupants along East Bypass, Osogbo, which led to an accident around 5:10pm in the evening. One of the passengers was said to have died on the spot, while others sustained serious injuries.
The corpse of the dead youth was later brought to front of Osun Government House, Oke Fia by angry youths.
GWG recalls that Nigerians have called for the end of SARS on account of the excesses of some of its operatives.
Before now, there was unrest in Sagamu after SARS operatives reportedly killed a footballer.
As Nigerians took to the micro-blogging platform to express their views concerning the incident that happened at Osogbo, Governor Gboyega Oyetola was forced to step in to plead for calm.
Adegboyega Oyetola@GboyegaOyetola wrote: "The death of the young man that was reportedly chased to death by some security operatives in Osogbo today, is very unfortunate & devastating. I sympathise with the family & loved ones of the deceased."
Adegboyega Oyetola @GboyegaOyetola wrote: "I urge our people, especially the youths to remain calm & not take laws into their own hands."
GWG captures some of their views below:
Mayowa Olagunju ❁@iam_doctormayor wrote: "Plz if you are in osogbo right now.. Plz for your safety don't go near oke fia and olaiya junction. Stay safe."
YOUR OSOGBO BARBER @Cheyih_Viktah wrote: "If you live in Osogbo, please go home oo These police people might start picking people now. "
@Tundeeleniyan_0 wrote: "Please if you stay in osogbo or you know anybody who stays in osogbo please advice them or tell them to avoid oke fia and Ola Iya area/ junction right now."
I'm Dammy@AyamDamiee wrote: "A young man was allegedly chased to death by Sars in Osogbo. His number one offence was that…he was a Nigerian."
PETERU@Lord_Dubbs wrote: "What's wrong with Osogbo?"
Desire Wavyboi@DesireWavyboi wrote: "Osogbo LA hot please
@MBuhari come and see your country, our government @instablog9ja
@KemiOlunloyo please is this why we are having Sarz in the country to kill innocent boys cuz of what,why They call us the future of tomorrow are we to rule in the grave.#EndSARS #EndSARS please."
Naz@YayiFetti wrote: "#Sars #osogbo Dey don turn osogbo to spartacus arena Like 9 people don die now… 5 SARS and 4 niggas."
YOUR OSOGBO BARBER @Cheyih_Viktah wrote: "Gunshot everywhere Osogbo today lasan."
Sir.Clementio@afolabadeleke5 wrote: "Sir, the gospel truth is that the high handedness of SARS and other Units in Osogbo and environs is Unsettling. People are terribly angry. You don't want a situation in your state where the government will lose their MONOPOLY of violence. Enough said."
Demola Of Lagos@OmoGbajaBiamila wrote: "Heard SARS killed a young man in Osogbo today and there's been a riot which might still be ongoing. At what point will enough be enough???"
Tosin Olugbenga @TosinOlugbenga wrote: "What's going on in Osogbo? I learnt SARS killed two young guys assumed to be Yahoo boys. And that people are looking for the SARS officers and the state capital is under unrest. Who can confirm."
Tife I. Olagunju@TifeIOlagunju wrote: "@raufaregbesolaInterior Minister sir, the SARS atrocities will soon cause interior unrest in Nigeria if care is not taken. Now the worst has happened in Osogbo. The protest is bloody already. We are all sitting on a time bomb. #EndSARS now or else SARS will end our peace."
@Tundeeleniyan_0 wrote: "Alaye get out if na your pikin Na wentin you go talk be this #EndSars in Osun we don't want your sympathy until you do that."
Susan@susangib009 wrote: "SARS treat us like shit a lot killing us at young age for our parents after promising them everything in life do you know maybe the boy that die today is that family bread winner MR GOVERNOR SIR Remember your promise for US before and after election ENDSARSORMOREWAR."