Tag Of Ned Nwoko's 7th Wife Shadows Chika Ike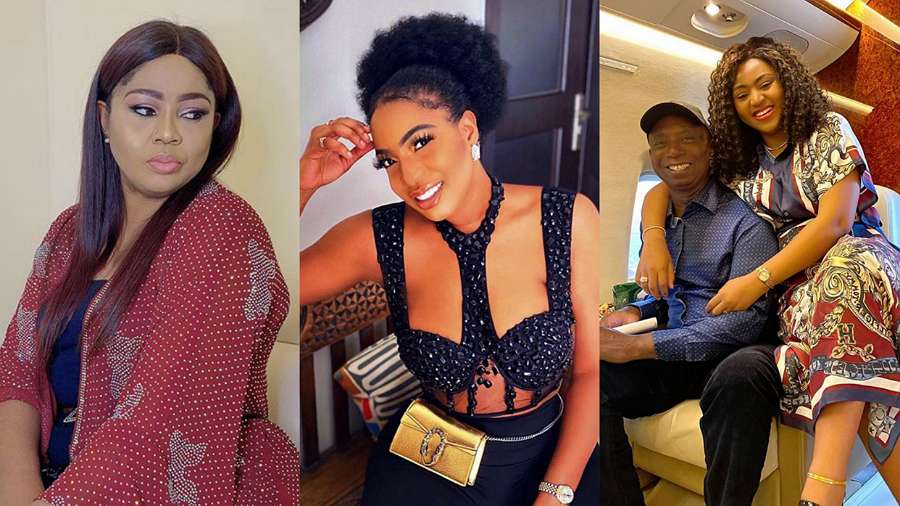 By Ayodele Oluwafemi
Despite vowing that she would not be the seventh wife in the harem of billionaire politician, Ned Nwoko, fans of Nollywood superstar Chika Ike are continuing to swim in the controversy.
Many are telling her to go ahead with the move while some few social media users apparently beholden to Ned's fifth or sixth wife, Regina Daniels, are asking her to keep away from the Delta born man.
Ms. Chika Ike had following the controversy that followed the claim that Regina's mother, Rita Daniels ranted against her marrying Nwoko had vowed that she would not be the seventh woman in Nwoko's harem.
The claim about Ms. Rita Daniels was subsequently found to be false.
Nonetheless fans are not leaving the matter to rest as almost every social media post by Ms. Ike is now shadowed by comments about being Nwoko's seventh wife.
When she posted a promotion picture for her studio, Flip Script on Instagram, friends and foes were quick to read it as a promotion to be Mr. Nwoko's seventh wife.
see how some fans and foes reacted:
victoria.azi.167 reacted thus: "Ned 7th wife loading"
fondokataferno wrote: "Now writing a script about the 7th wife of the richest man in babylon… 😂😂😂… shey you go buy Nigeria"
lovelybetty5 said" As you fine reach, you can't be a seventh wife in Jesus name amen❤️"
ify_splendur wrote: "Pepper them no time. Silent Keller. Love you mama😘😘😘"
favouranyadiegwu "7th Perfection💋."
_na.ho.mie said: "My dear ur silence has proven that u're matured…let Regina and her mother go through the stress of shouting….better thing no b for 1 person… After all wen ned get married to her the co wives didn't go on social media so wats her stress"
chiomaemmanuel2 said: "Beautiful babes dont make noise, they do their thing and disregard side talk, I love you for your silence to people rubbish talk you own them no explanation"o
messky101 said: "Finer than Regina and her mama👺"