Jests As Akeredolu's Man Shares Out Election Bread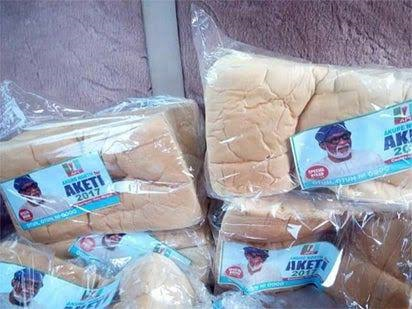 By Emmanuel Adigwe
Social media was on Friday abuzz with after pictures of an APC faithful dishing out bread with labels of Governor Rotimi Akeredolu's picture inside the loaves.
Also dished out were flip-flops (slippers) and Ludo games as election gifts to some residents in Ondo.
It was not clear if the governor sanctioned the move but the man handing out the gifts was wearing the "Aketi" identified with the governor and also with a shirt emblazoned with the governor's image.
This development has sparked reactions on Social media as many social media users expressed shock over the latest election gestures of bread, Ludo and bathroom slippers. GWG captures some of their views below:
KING DEE@Ikingdeetweet wrote: "Lol. Whilst playing with this generation future, they felt it right that we, at the grassroot level play some game too – thence – provision of Ludo. Aren't these guys just the best?"
Daniel Willoughby@Sir_Willoh wrote: "When you finish eating your bread, you put on your slippers and go to your friends house to play ludo while Akeredolu and his cronies eat the State's wealth for another 4 years. L Fela's zombie and ITT came to mind"
𝒮𝑜𝓊𝓇𝒞𝑜𝒸𝑜 @Timi_Cocodia wrote: "Ludo? Ludo? As per make them roll dice."
OluKay@OluKayodeCFC wrote: "Ludo to distract people so while they are playing, they are busy looting. And the slippers in case they want to send you on an errand."
AKURE BOI your Nightmare @nation_jojo wrote: "SSA to Governor Rotimi Akeredolu on Political matters just RESIGNED. Nobody wants to associate with Ludo & bathroom slippers governor anymore. More resignation letters in the pipeline. Aketi is not ready for this HEAT."
Ayobami KEHINDE@ayojonah wrote: "Ondo election: Akeredolu shares ludo and slippers to voters Akeredolu is a Governor, lawyer, SAN and former Nigerian Bar Association President. This is a parable… Ondo people what would you like to tell him?"
Alabi Oludayo@hescoming4real wrote: "If you eat bread, they consume your sense of value, if you put on slippers, you transfer your glory, if you collect ludo, your destiny die."
La Vida loca @OLUWANIFEMIDAV2 wrote: "Ondo Election: Only slippers and ludo?. Aketi should have added a pack of biscuits or pongilla , at least. If he doesn't, I'm not voting for him."
Adiela Nwosu @PrettieAdiela wrote: "Ondo2020 : APC empowering people with Ludo and slippers. If you know you don't have slippers please rush down and collect. If you're bored, come and collect Ludo, play and be joyful. My eyes oooh."
GENOCIDE IN SOUTHERN KADUNA@savndaniel wrote: "If you are from Ondo State, kindly rush down there now, the angels of Aketi, are sharing: 1. Bread of life. Once you eat this bread, you'll never be hungry again for 4 years; 2. Dunlop slippers to trek for 600 years; and 3. A ludo to entertain you for 4 yours. Good luck!"
Afinju w'oja@SimplyTEEWHY wrote: "Akeredolu is a SAN and was once NBA president o. He is sharing slippers and Ludo in this age to woo voters. Is there any hope for this country laidis?"
Demola Of Lagos@OmoGbajaBiamila wrote: "Eat bread, wear Dunlop slippers or play Ludo for the next 4 years in Ondo state. "
Ajoke@Deolzz wrote: "Instead of buying PS5 for a man, why not buy ludo? Buy the Naira to grow Nigeria, invest in your country and don't allow a materialistic man to mislead you from your purpose."
Ayemojubar @ayemojubar wrote: "Aketi slippers, Aketi ludos. Shey una don see your life outside? That same man gave cars to those that voted out his deputy. Someone that calls him/herself a human will make a 4-years decision because of ludo? "
Lekan Oriowo@OlalekanNR1 wrote: "Rotimi Akeredolu say make una dey play Ludo. At least civil servants can play Ludo if salary no enter. "
Afinju w'oja@SimplyTEEWHY wrote: "Come to think of it. Ondo people are kinda lucky sha. From bread to slippers to Ludo. In my dear Oyo state, this was what the APC guys shared in 2019 but we rejected them and their legacy of poverty. I hope Ondo people do the same this time."
TIPSY@tipsyenupo wrote: "AKETI says "play me, I am ur ludo"
Premier@SodiqTade wrote: "It appears Akeredolu don't have anything to show after 4 years aside these landmark achievements; 1. Soft bread. 2. Paper ludo 3. Slippers. My thoughts and prayers are with the good people of Ondo."
Jesutobiloba®@tobinho05 wrote: "Ondo State Deserve more Ludo Games We deserve better dividends of Democracy."