APC Partisans Justify Ganduje's Vow To Isolate Wike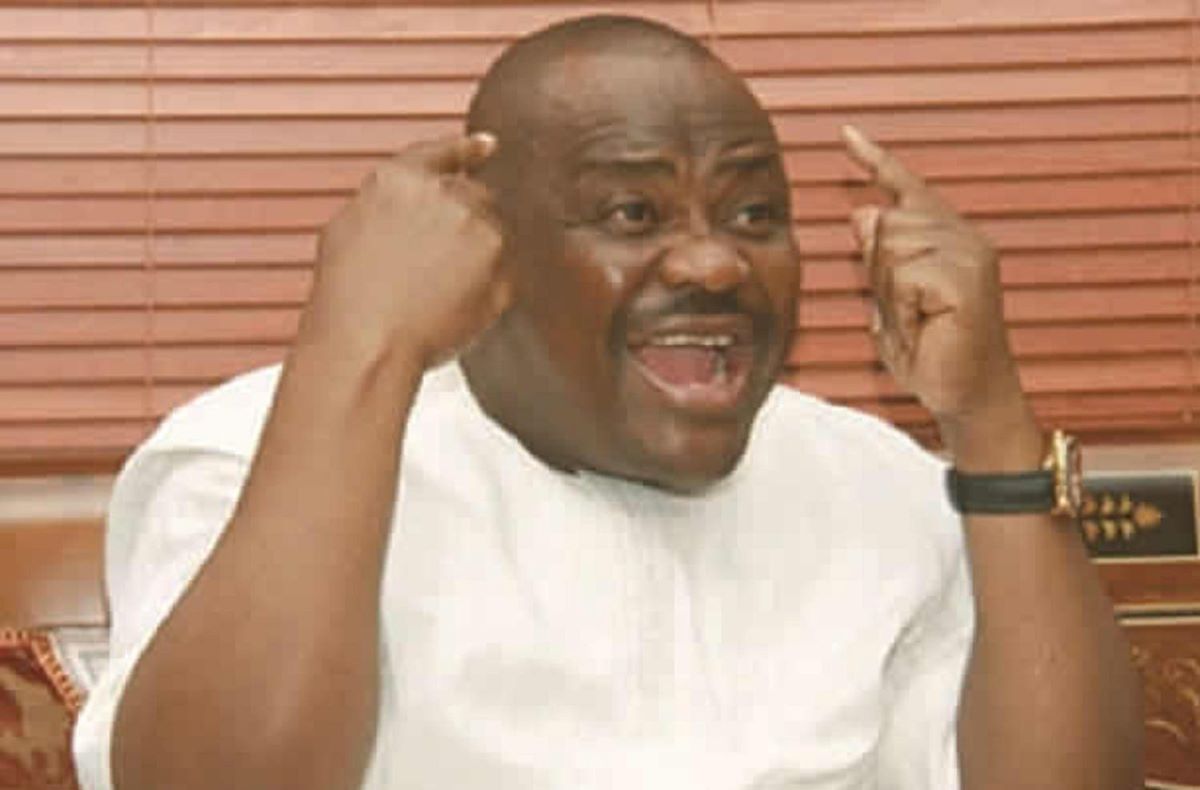 By Emmanuel Adigwe
The news of police isolating Governor Nyesom Wike in his Benin election headquarters has elicited mixed reactions across the polity.
The reported quarantine of the Rivers State governor and chairman of the PDP National Campaign Council had earlier been hinted at by Governor Abdullahi Ganduje who on July 6 vowed that Wike would be isolated during the election.
GWG had earlier reported that over 300 police men reportedly led by DIG Leye Oyebanji, laid siege to Wike's headquarters in a hotel in Benin, Edo State.
The APC had earlier defended the quarantine of the Rivers State governor on the basis of upholding COVID-19 protocols as the party said that the governor was being held in isolation on the basis of the pandemic.
However, with the argument not selling APC partisans have flooded the internet to assert the action on the Rivers State governor as a payback for what was meted to APC partisans during the governorship elections in Ekiti in 2014 and Anambra State also in 2014.
GWG recalls that the governor of Kaduna State, Mallam El-Rufai, had complained that the former governor of Anambra State, Peter Obi, was a "tribal bigot" as he was detained in Anambra by the DSS in a hotel during the Anambra 2014 gubernatorial election.
El-Rufai had said: "Peter Obi is a tribal bigot. He was widely quoted on national television that the SSS was right to detain me for 48 hours in a hotel in 2014 on the grounds that I had no business being in Anambra as it is not Kaduna State!"
Also, during the gubernatorial election in Ekiti State, it was reported that the APC which was also the opposition party at that time was not given a fair chance.
GWG captured some of the reactions:
Blessed Beyond Measure (BBM)@Drmuzoic wrote: "If a state governor can be treated like this, imagine the fate of ordinary Nigerians."
Eletu Odibo@AlHakiu wrote: "Kayode Fayemi was the Ekiti State Governor in 2014 when he was slapped by a police man in his own State! Of course, Fayose of PDP won that election with over one thousand soldiers and the Minister of State for Defense camped in Ekiti State. You see this karma ehn."
GbemiOyebisi™@iamGbemiOyebisi wrote: "We can't forget what happened in Akure. A sitting Governor was barred from going to Ekiti then."
Olajide M. S. Asaaju@Its_HonestySam wrote: "Hello sir, truly soldiers were present in Ekiti state but the election was peaceful in fact we already knew most of the results at the polling units."
Eletu Odibo@AlHakiu wrote: "You're a good student of history Sir! So that means the elections in Edo tomorrow will be peaceful and fair. Thank God that Buhari for once is not discarding a strategy once used by Jonathan. If it worked in Ekiti, it will work in Edo. Abi no be so?"
Lere Olayinka – Aresa 1@OlayinkaLere wrote: "They want to use police to intimidate Gov Wike out of Edo State while Govs Hope Uzodinma and Ganduje are allowed to move around freely in Edo State. Yet, a certain @MBuhari will still be talking about free and fair elections. "
Olufunke Lawson@bravefacefunkie wrote: "Uncle Lere, 2014 is clear in our heart just like 6hours ago. Was it not in Ekiti that Amaechi's helicopter would be shot at if his helicopter tries lands on Ekiti land? You forgot how security forces were kidnapping APC Party Stalwarts to cells from Ado to Ikere & vice-versa?"
Musa Ahmed @Kempez2017 wrote: "That reminds me when Elrufai and others in 2013 were prevented from leaving their hotel in Anambra and Lai Moh'd and other APC members from entering Ekiti in 2014. So, deal with it."
Olamilekan Baba2unde@sfnoh wrote: "At least you were allowed to enter Edo please be grateful. Ask them Amaechi what happened to them on their way to Ekiti in 2014."
Adejumo Abayomi (GMB Pikin)@AdejumoAbayomi4 wrote: "Once upon a time in Ekiti State!!! HE @kfayemican narrate the story of his life directed by @AyoFayose1, @GEJonathan and @OfficialPDPNig Was @officialKolaO not born then?"
ATTAH OLUODO@ATTAHCLEMENT7 wrote: "People easily forget history. -Amechi was given home arrest during election in river state -He was sent back from ekiti during election fayemi vs fayose -Osomole's flight was grounded and he was not allowed to enter ekiti Why is wike crying? You guys introduced the style now."