Mrs. Fani-Kayode's Sisters Tell Story Of A Dirty, Wicked Marriage!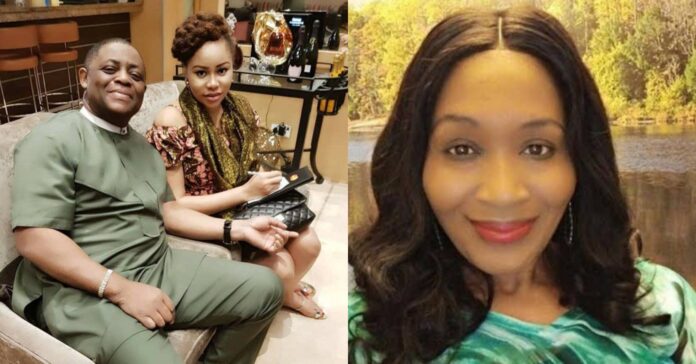 By Ayodele Oluwafemi
Relations of Ms. Precious Chikwendu, the estranged wife of Chief Femi Fani-Kayode have rebuked an unnamed uncle who reportedly tried to cover up alleged acts of wife-battering leveled against the former minister of aviation.
Prisca Nduka, a sister of Ms. Chikwendu, had alleged that the former minister regularly molested his estranged ex-beauty queen wife. The abuses were according to her donesometimes before feiends before visitors and staff.
Her claim was fanned by other relatives and friends on her Face book page.
In recent days, the social media has been awash with reports that Fani-Kayode had separated with Chikwendu, after six years of marriage, over domestic violence issues.
GWG had also reported family sources as saying that domestic violence was not an issue in the circumstances that led to the separation of the couple, citing disagreement over attending public outings.
However, a sister of Mrs. Fani-Kayode, Prisca, in a Facebook post, said her sister experienced horrific treatment in the hands of Fani-Kayode, noting that at some point the ex-beauty queen had to defend herself with a knife.
She seriously rebuffed claims by their uncle who according to her claimed that Ms. Chikwendu had a history of mental stress which may have reoccurred leading to the present estrangement of the couple.
She wrote, "Now to obvious facts, Even if Precious had a mental breakdown like you claim, who wouldn't? Considering what she had to go through in that house for almost 6yrs.
"A house she had no say in, a house where she was constantly beaten and humiliated before staff and sometimes visitors. A house where one who calls himself a husband will call and pay pastors to give their fake prophecies against his wife, one of which is 'that she has spiritual problems and she's only living because she's under his spiritual covering, that the day she leaves his covering she will die". You are very aware of this!"