Edo Is Not Lagos: Nigerians Savour Edo Results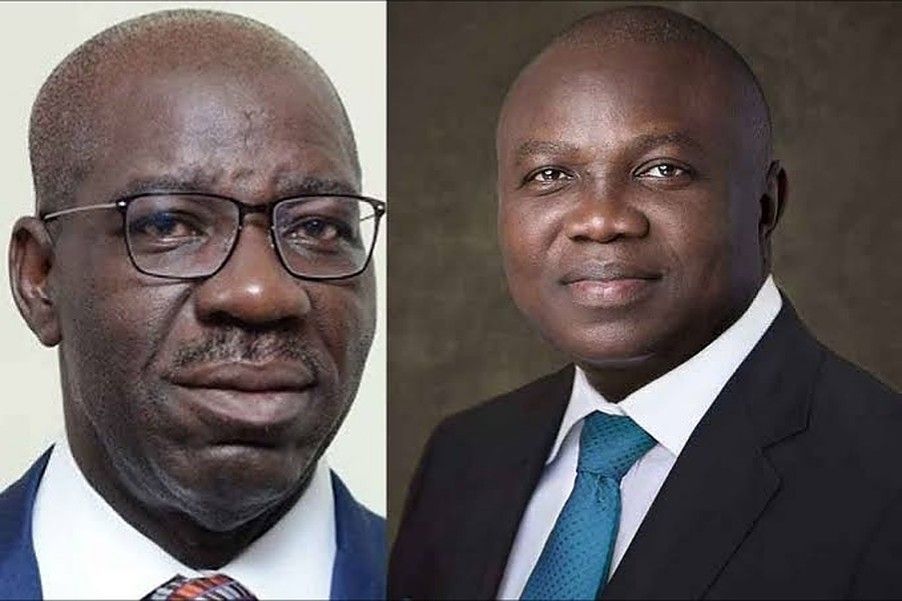 By Emmanuel Adigwe
The former Governor of Lagos State, Akinwumni Ambode, was on Sunday turned into a reference point at the collation of the results of the Edo State governorship election with the PDP's Godwin Obaseki emerging victorious.
The development made some Nigerians to reminisce about Ambode who many felt performed well but fell by the way side because of issues with his godfather, Bola Tinubu.
As Tinubu was to Ambode, so Comrade Adams Oshiomhole was to Obaseki until they fell apart.
Some Nigerians took to the micro-blogging platform to review Ambode's experience with Tinubu with some flaying him for lacking a fighting spirit like Obaseki.
There were, however, many who also affirmed that he could have done little given the fact that he had no political backing as even the lawmakers in the state house of assembly and his deputy, Dr Idiat Adebule, were against him.
GWG presents some of the views below:
Bólúwatifẹ́ S. OYÈKÚNLÉ (BSO) ➐@boluwan wrote: "After the victory of Obaseki inshaEledumare, Ambode will have to come and collect past questions and necessary materials from Obaseki."
Ayemojubar @ayemojubar wrote: "If Obaseki win this election, expect a full-blown rebellion against godfatherism in this country. #EdoDecides2020."
Kratos @LibraLord88 wrote: "The fact that Obaseki refused to go down without fighting for his political career unlike Ambode is one big reason why I respect him. #EdoDecides2020."
Raymond@IamTheIroko wrote: "#EdoNoBeLagos when we screamed at Ambode throwing in the towel without a fight, this is what we mean. Obaseki and Phillip have fought courageously and gallantly. A victory would be the icing on the cake, but they have fought well. Once again #EdoNoBeLagos #EdoDecides2020."
King of the north@arafatrogo wrote: "Obaseki is teaching Tinubu and Oshobaba that everyone can't be Ambode. Obaseki is teaching Ambode that you always fight to finish."
Comrade Lasun Oyelade@lasunhonesty wrote: "Ambode that did not control a single member of the state assembly, they would have impeached him in five minutes if he had tried to be smart."
nonymous@Museng11 wrote: "What is happening in Edo is what Ambode should have done to Tinubu in Lagos only if he had a semblance of a spine, or a modicum of "liver". Alas Yoruba people will term their congenital cowardice & Lilly liveredness as "respect for elders".
Anonymous@Museng11 wrote: "In the Savannah, a time comes when the young lion will chase out the old lion, kill off his rivals and take over the females to create his own lineage. However, Lagosians will rather die in slavery to one man than take their destiny in their own hands."
Afin@Dezmond10 wrote: "No difference my G Ambode was to scared to give godfatherisim a fight."
Gbolahan Quadri@QMGbolahan wrote: "The truth is the people of lagos would choose APC,ACN etc 10 times over. Dey prefer d devil dey know. Its not fear just common sense. If we allow pdp nd dem bode George come in what would happen in lagos? Dey know d APC are nt saviors but PDP are far from saviors. Lagos is smart."
Chukwunedum@Calljonas wrote: "If you are ready revolt against Tinubu, the first thing is to stop the house from sitting. That was what Obaseki did and @OfficialAPCNg
criticised him, but that was the master chess game. "
Ekomobong Hanson@Hansonekomobong wrote: "If #Obaseki wins today, He won't go down in History as Ambode. People love a daring Leader even when He doesn't always win. As #Edodecides today, may the best Candidate win for the prosperity of Edo state."
Reeva@Mo__hini wrote: "I bet Ambode is wishing he tried his luck at least."
The Capitaine@_thecapitaine wrote: "O To Ge Edo No Be Lagos We need someone to coin an appealing yet provoking slogan for Lagos PDP for ahead of 2023 elections. "
The best man alive@donwashy wrote: "Those ones? they will still flog them. But what can help them is if Ambode decamps and runs against Sanwo Olu. If obaseki wins Ambode will feel bad, but it might just push him to leave APC."
Oloye@calebOkechukwu wrote: "You dey laugh ba ? I no tell you over 3months ago… U dey shout PDP no get structure. Obaseki has done what Ambode cannot do."
Taiwo_Ajakaye@dmightyangel wrote: "Lagos, make una chill. No State dey compete with una. The way una dey use project bully us, we fit start our own for Ibadan o.Kudos to Ambode, Kudos to Sanwo-Olu."
Attah O. Robert@Rob_Attah wrote: "My Edo People, una well done. Now we know sey una no dey carry last. Edo no be Lagos. Obaseki no be Ambode!
Rukayya@Rhoukayya wrote: "Edo people have disgraced Yoruba slavemaster and political lord Jagaban bullion van Tinubu. Edo no be Lagos. Obaseki is not Ambode. Let it sink into your chanfa head. Nonsense."
Son of grace@Joepraise13 wrote: "This is embarrassing to APC… This is what Ambode should have mobilized his people to do… He was wasted."
Ug@ugochukwupri wrote: "From the result so far seems pdp will win Edo… Just maybe ambode would have developed more spine."
DUNSIN@sultan_rowo wrote: "Ambode held a whole press conference to warn us about Sanwo Olu and we didn't listen."
MR NO SENTIMENTS@DcharlesIzekor wrote: "Ambode needs training in Edo state."
Dreal_specialist@ojodave123 wrote: "Tinubu should tell us what exactly was Ambode's sins
Father of all Democrats indeed abi benefactor?"
Current Trends@CurrentTrends5 wrote: "We want Ambode back in Lagos. That guy is seriously missed. I believe he must have learnt his lesson by now."
Papi@Ola_modem wrote: "Ambode, see your mate o!!!! Weak man."