FG To Sell Jet One Month After Aisha Survived Storm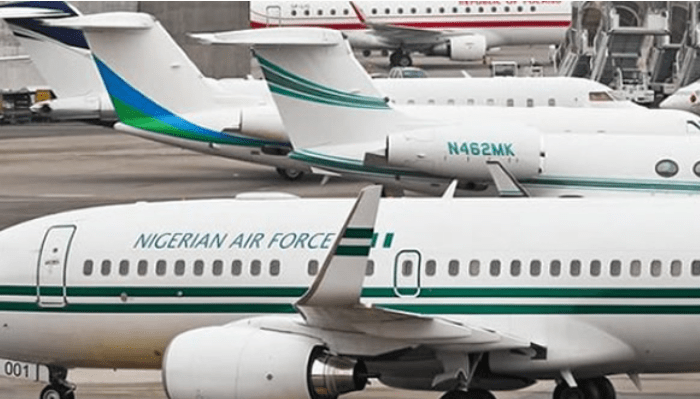 By Ayodele Oluwafemi
Weeks after Nigerians heaved a huge sigh of relief when First Lady Aisha Buhari survived a serious air turbulence, the Federal Government has put one of the jets in the presidential fleet for sale.
In the advertisement placed on some national dailies, on Wednesday, Hawker 4000 aircraft with registration number, 5N-FGX/: RC 066, was placed for sale.
According to the advert, the jet has been in use since December 2012, with the capacity to convey nine passengers, three crew members and a range of 3,190-nautical mile flown.
Interested buyers were told to inspect the jet at the presidential air fleet's hangar, Nnamdi Azikiwe International Airport, Abuja.
They were also directed to submit the bid to a committee at the office of the National Security Adviser (NSA) alongside a bank draft of $50,000.
"Please note that all bids must be submitted within one week of this publication
"Background check is required as a pre-qualification for the bid. Prospective bidders, who want to inspect the aircraft, will be granted access within one week from this advertisement," the advert read.
It, however, could not be confirmed if the jet being put up for sale was the one that the First Lady travelled with.
Returning from her trip to Dubai last August, Mrs. Buhari spoke of how she survived a clear air turbulence and how the professionalism of the air crew helped to save the day.
Nigeria has a presidential air fleet of nine aircraft with the presidential plane dubbed Eagle One on top of the pack.
The others include a Gulfstream V-SP, a Gulfstream 550, two Falcon 7Xs, a Dornier Do 228 and three A139 helicopters which form the presidential air fleet.
Send Us A Press Statement Advertise With Us Contact Us