Nigerians Compare 5 Years Of Jonathan, Buhari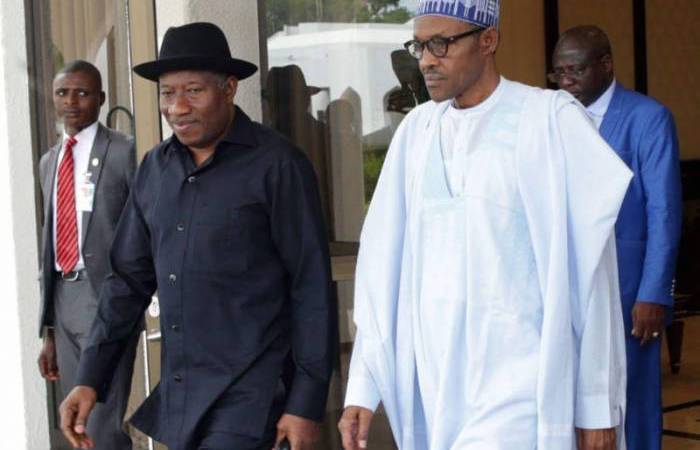 By Emmanuel Adigwe
Nigerians have taken to the social media to compare the first five years of Nigeria's two recent presidents, Dr. Goodluck Jonathan and Alhaji Muhammadu Buhari.
GWG recalls that during the administration of President Jonathan, that the issue of insecurity was also a contentious issue with Boko Haram becoming a menace that forced many Nigerians to look behold the candidate of the All Progressives Congress, APC, Buhari as a Messiah to solve the crisis.
However, since the advent of the administration of President Buhari, according to many observers, nothing special has been done to address the issue of insecurity as it has reared more ugly heads across the country.
A cross section of Nigerians took to the Micro-blogging platform to express their views and GWG captured some of them.
Adesina Foluso Adeyinka@Foluso_Official wrote: "Former President Goodluck Ebele Jonathan may have his flaws, but we cannot deny that under him, we had a comforting experience. Nigerians now pray for the life we were made to reject by Buhari. Goodluck Ebele Jonathan is an archangel compared to Buhari. God bless Jonathan!"
Stephen Adebayo@thissteven1 wrote: "Goodluck Ebele Jonathan is the best president Nigeria has ever produced"
iTunes Money@ItunesPR_wrote: "GEJ explain to Nigerian how you managed to control our borders and yet a bag of rice was affordable to the vulnerable. Morals- Power is dangerous. It corrupts the best and attracts the worst. Power should be given to those who are prepared to lower themselves to pick it up. "
iTunes Money@ItunesPR_ wrote: "Apparently, but let the truth be told what's your scale of performance if you are to rate Goodluck Ebele Jonathan and Muhammadu Buhari?"
Nimmy of Akure @bunmo4 wrote: "After he answers the questions he should read out the answers to this irresponsible incumbent."
Blaq blawd@BBlawd wrote: "Father, People insulting Goodluck Ebele Jonathan will suffer for 600 years!!"
Elevation News Today@ElevationToday wrote: "A former minister of foreign affairs under the Goodluck Ebele Jonathan administration, Aminu Wali, has stated that the previous government brought the Boko Haram insurgency to an end at the tail end of the administration."
i unfollow if u dnt FB@oluwatobijamiu wrote: "Goodluck Ebele Jonathan is the best president Nigeria has ever produced."
Artemis Fowl@Bitter_samm wrote: "He warned them but they didn't listen….. Instead they voted an old cattle rearer from Kastina as president….. Goodluck Ebele Jonathan… The best president Nigeria ever had."
Ebuka Ahamba@AhambaEbuka wrote: "Goodluck Ebele Jonathan regime wasn't one of Nigeria's finest, but choosing between a greater evil and lesser evil, Nigerians chose bad… Really bad."
Abuja Personality@Giftwilfred101 wrote: "Goodluck Ebele Jonathan is Weak, Goodluck Ebele Jonathan is a Woman. His wife is controlling him. Nigerians, God has given you a Strong Man, please manage him."
Caretaker©@mexverh wrote: "Worst President in Nigeria : 1. President Muhammadu Buhari 2. President Goodluck Ebele Jonathan Don't let the incompetence of Buhari make you forget Goodluck Ebele Jonathan is a disaster."
iTunes Money@ItunesPR_ wrote: "We need Goodluck Ebele Jonathan to answer these following question for us; 1: Explain to Nigerians how you managed to build (17) federal universities in (17) states in Nigeria. 2: Explain to Nigeria how you managed to build almajiri schools in the northern local governments."
KING KONG@Sadeeqkurfi wrote: "Goodluck Ebele Jonathan was a disaster to this country.'
Odenigbo (n'igbo ninē) @DJay_illfingaz wrote: "Tweets are made by humans and many who are qualified electorates. Yes Goodluck Ebele Jonathan is not an Angel but he had a positive trajectory, he had focus, he had progress, he had vision, The other one you speak is totally clueless and utterly irresponsible."
Pillz Madaki@PillzMadaki wrote: "goodluck Ebele Jonathan: No blood of any Nigerian is worth my political ambition. PMB: Do or die."
Arikpojnr@EMMANUELARIKPO1 wrote: "Your current President is what made Goodluck Ebele Jonathan an angel."
Ermries kane@ghatecoe wrote: "Goodluck Ebele Jonathan was the last president Nigeria had before it survived 8 years without a president."
Pillz Madaki@PillzMadaki wrote: "When Ebola broke out Goodluck Ebele Jonathan was proactive and in few weeks we were done with the virus but under PMB covid19 has metamorphosed into a political party."
Paul Smith Obasi@UnclePauly wrote: "There is nothing that Goodluck Ebele Jonathan said will happen if Buhari becomes president that has not happened."
Amala Tourist/Ambassador Savagekizz wrote: "President Goodluck Ebele Jonathan warned us 6 years ago but like Jesus, y'all were quick to crucify him."