FCMB Apologises To Magu's Pastor Over N.5b Alert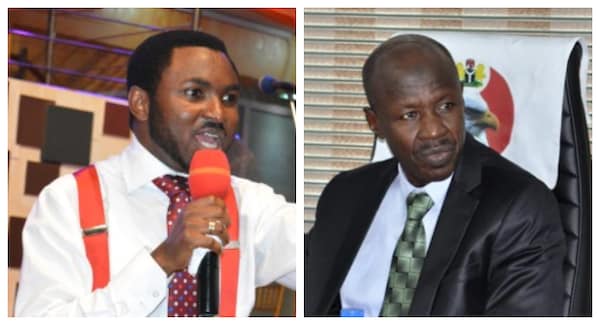 By Ayodele Oluwafemi
The First City Monument Bank (FCMB) has apologized to Emmanuel Omale, general overseer of Divine Hand of God Prophetic Ministries International for 'mistakenly' crediting the bank account of the cleric with the sum of N573 million.
Recall that the managing director of FCMB, Adam Nuru while facing the Presidential Committee on Audit of Recovered Assets (PCARA) led by former president of the Appeal court, Justice Ayo Salami, said the bank discovered that N573 million was posted to the church account of Pastor Omale.
This mistake was said to have been discovered four years after the error of posting.
The committee had accused Omale of being used by suspended chairman of the Economic and Financial Crime Commission (EFCC) Ibrahim Magu to launder funds and that the embattled EFCC boss bought a house in Dubai using the name of Omale.
However, the cleric had sued the bank for negligence which led to investigation and criminal defamation.
In a bid to avoid legal litigation, FCMB tendered apology which was published in three national newspapers – The Guardian, Daily Trust and Business Day.
FMCB, in a letter signed by its legal counsel, Adewale Fati and Olugbenga Elemide, dated September 11 and titled "Re: Bank Negligence Occasioning Unique Investigation and Defamation to our Client" said the bank has published the apology in three national newspapers, while noting that it was an error not borne out of malice.
The letter reads, "Please be informed that in line with the undertaking contained in our aforementioned letter, we have published in three national newspapers (The Guardian newspaper, Daily Trust newspaper and BusinessDay newspaper) on September 11, 2020. Please find attached herewith copies of our public apology to Divine Hand of God Ministries.
"It is our hope that the public apology has assuaged the grievances of your client, having seen that the error was indeed not borne out of any malice towards them.
"Kindly extend our good wishes to your client, whilst assuring you of our warm professional regards."