Shameless, Cowards, Nigerians Blast NLC, TUC
Say Suspension Of Strike Betrays Workers' Interests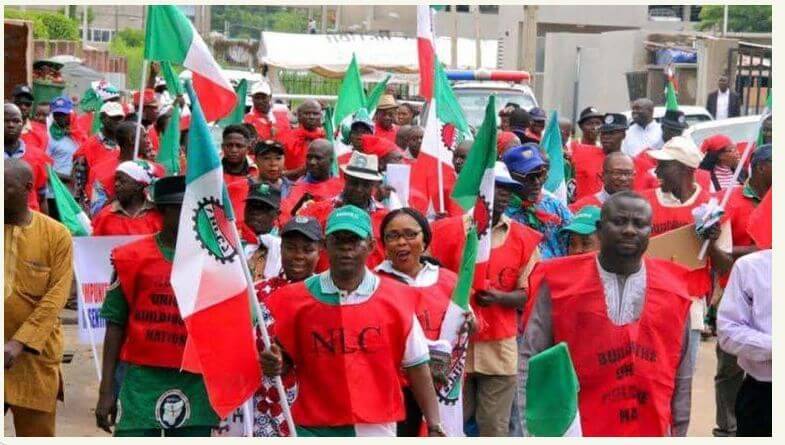 By Ayodele Oluwafemi
Many Nigerians have disagreed with organized labour over the suspension of the planned nationwide industrial action called to demand the reversal of the recent hike in the electricity tariff and fuel pump price in the country.
Recall that Nigeria Labour Congress (NLC) and the Trade Union Congress (TUC) threatened to embark on industrial action over the recent hike in electricity tariff and fuel pump price on Monday, September 28.
But the labour unions, hours before the commencement of the strike action agreed to suspend the industrial action, after meeting the representatives of the FG.
The recent hike in electricity tariff was suspended for two weeks.
A Technical Committee comprising Ministries, Departments, Agencies, NLC and TUC, which will work for a duration of two weeks effective from Monday, September 28 was set up to address the  electricity tariff.
Many Nigerians have taken to the microblogging platform, Twitter to react to the suspension of the industrial action by the labour unions.
They have argued that the organized labour do not represent the interests of the masses, noting that the two week ultimatum will not address the issues on ground, as the increment in fuel price and electricity tariff will still remain effective.
Some also noted that there was no immediate commitment to reverse the increment but the organized labour agreed to suspend strike.
@ayemojubar tweeted: " Dear Nigerians, you have no NLC and TUC. None of the conditions was met yet they suspended the strike. Only electricity tariff was suspended for 2 weeks yet they agreed. This is the Next Level you chose, next level of the compromised.
#NLCStrike."
@adio_anthony tweeted: "NLC and TUC case must have been settled most likely before the hike in prices. The NLC is not on the side of Nigerian. The NLC are cowards. The NLC has lost the confidence of Nigerians. The NLC lacks the impetus to fight a just course. #NLCStrike."
@Clementronix tweeted: "At this point NLC, I'm ashamed of your organization. What concessions did you reach with FG that is appealing to NIGERIANS in pain?
If you have the future of NIGERIA at heart, BE YOUR WORDS."
@Yobe_update tweeted: "Trusting the NLC and TUC with the destinies of Nigerians is just a waste of time, an attempt to siphon money and enrich their pockets. Don't be deceived, these lawless organizations are there for themselves and their families and not the populace. #NLCStrike"
@firstladyship tweeted: "Congratulations to Comrade Ayuba Wabba, his NLC, TUC, for suspending the planned strike action today, & for forcing the FG to halt the electricity tariff hike. According to Comrade Ayuba & his NLC & TUC comrades, THEIR DEMANDS HAVE BEEN MET!!"
@joy_eshovo tweeted: "NLC strike called off? Las Las they've settled the union and this isn't about us again. #NLCStrike."