Buhari's Achievements Not Hidden -Supporters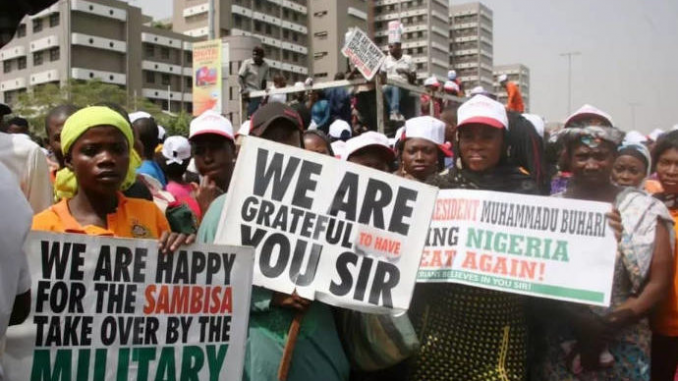 Supporters of President Muhammadu Buhari have said that no one can water down the achievements of the administration saying that insinuations of incompetence by the Peoples Democratic Party (PDP) were misplaced.
The Buhari Media Organisation, BMO in a statement signed by its Chairman Niyi Akinsiju and Secretary Cassidy Madueke, BMO said it was shocking that a party that almost ran the country aground was accusing the Buhari administration of reversing the country's fortunes.
"Here is a party that held sway at the centre for 16 years but misused the opportunity to make the country bigger and better than what successive military administrations left, even with higher crude oil prices.
"There was little or no improvement in the nation's infrastructures, with only one incomplete standard gauge railway line in the country as at 2015, while many major highways were left either abandoned or at various stages of incompletion even after contractors might have been paid.
"But we make bold to say that since President Buhari's inauguration, he has done far more, in terms of putting up new infrastructure and completing abandoned projects, than many of his predecessors.
BMO added that it was not surprising that PDP resorted to grandstanding in its reaction to President Buhari's Independence Day broadcast.
"We noticed how the opposition party opted to milk the President's comparison of fuel price in Nigeria with that of other oil-producing countries, including Saudi Arabia while avoiding the salient points.
"This is another pointer to the party's penchant for pontificating when it, in fact, knows that the removal of subsidy was long overdue.
"We also dare to say that even PDP's allegations of divisive tendency against the government are vacuous. It is nothing more than a coordinated position by the party and its associates in some socio-cultural groups, who have never seen anything good in an administration that is putting up projects in every single state in the country.
"We need to remind Nigerians how millions of people went below the poverty threshold under the party's watch. After five years of PDP rule, data from the National Bureau of Statistic (NBS) showed that 57% of Nigerians were living in abject poverty at a time the country's population was 170 million, but the party ensured that the number of poor people grew to 120 million in 2010 before President Buhari reduced it to 86 million, and has a 10-year plan to bring it to zero.
"Our message to the party is that there is nothing it can do to water down President Buhari's achievement as a better manager of resources".
BMO reassured Nigerians that President Buhari would continue to ensure that the country regains its place of pride in the comity of nations.
Send Us A Press Statement Advertise With Us Contact Us