Uzodinma Insists Okorocha Alone To Refund N106b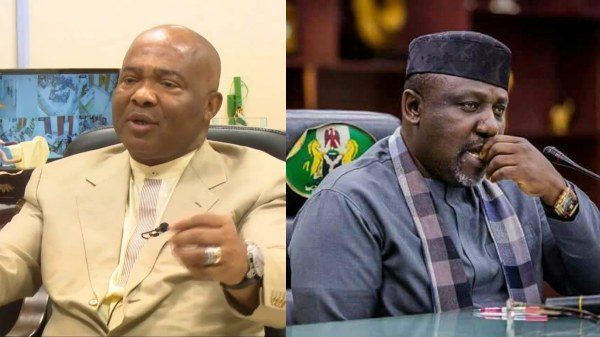 The Imo State Government on Tuesday insisted that the report of the judicial panel submitted to Governor Hope Uzodinma was limited to the administration of former Governor Rochas Okorocha who it said is to refund N106 billion to the state.
That amount translates to N36.3 million of allegedly fraudulent contracts it accredited to Governor Okorocha.
A press statement issued by Governor Uzodinma's Chief Press Secretary Oguwike Nwachukwu clarifying the issue denied that the Achike Udenwa and Ikedi Ohakim administrations were affected by the panel's findings.
The statement read thus:
"Contrary to reports in some newspapers, the Justice Benjamin Iheaka Panel of Inquiry which investigated the award of contracts in Imo State is specific on the administration of former Governor Rochas Okorocha.
"Recall that the Panel submitted its report to Governor Hope Uzodimma on Monday, October 5, indicting the Okorocha regime and saying it uncovered fraudulent contracts worth N106billion which the regime should be made to refund.
"The investigation covers the award of contracts during the period of Okorocha's administration from 2011 to 2019 and not 2006 to 2019 as erroneously reported by some newspapers.
"Consequently, the report by a local newspaper, Nigerian Watchdog, that former Governors Achike Udenwa and Ikedi Ohakim are to refund N106 billion together with Okorocha should be ignored as the probe period did not extend to their regimes."
"The mix-up arising from the duration of the probe – 2011 to 2019 – and not -2006 to 2019 – is highly regretted."