Is Obaseki's Prophecy On Tinubu Coming To Pass?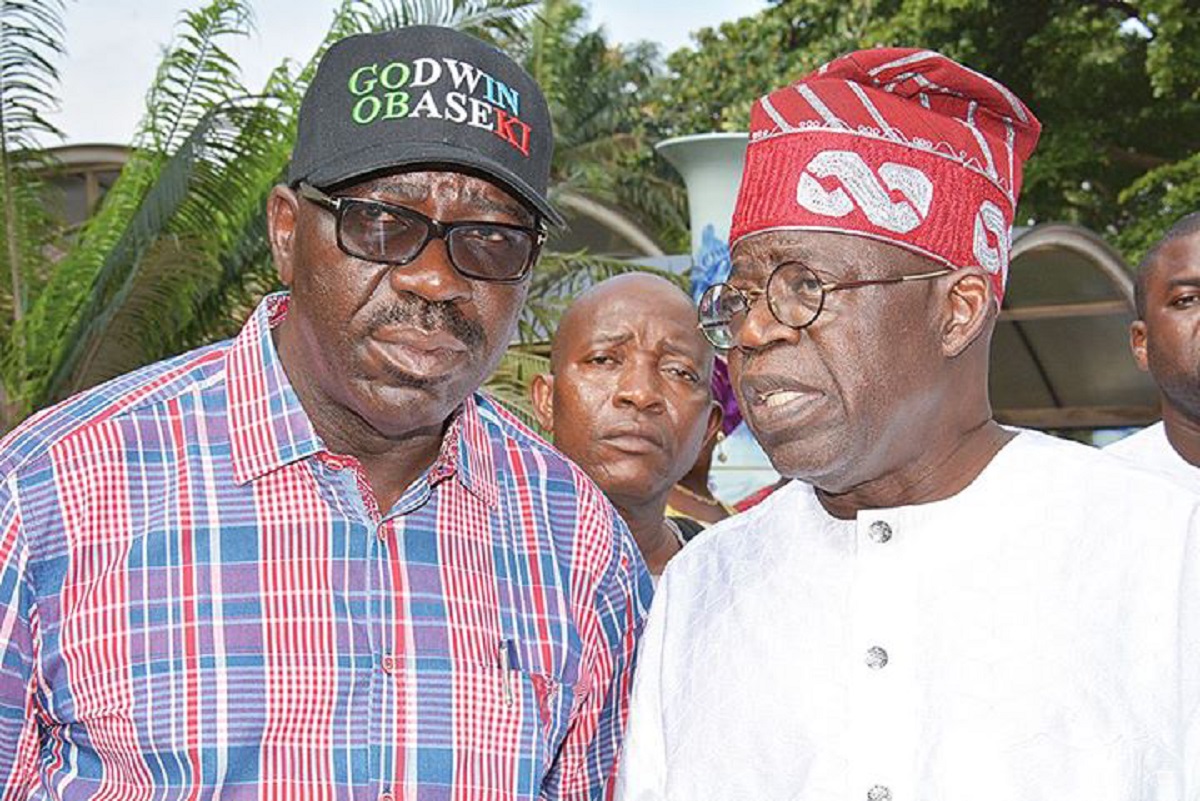 By Chuks Ekpeneru
The national leader of the All Progressives Congress, APC, Asiwaju Bola Tinubu may have dismissed the reply he received from Governor Godwin Obaseki in the days leading to the Edo State governorship election last September when he attempted to sway voters against the governor.
In the countdown to the Edo gubernatorial election, Tinubu had in a video message urged the people of the state to reject Obaseki at the poll.
He accused Obaseki of being dictatorial and urged Edo people to reject him.
In a well scripted reply, Obaseki vowed that Tinubu would not extend his political empire to Edo, adding that the people of the state were determined to end godfatherism in their domain.
According to Obaseki "Tinubu, in his quest to extend his political dominance and empire to Edo State, decided to take over the role of Edo people to choose through the ballot who to govern them for the next four years."
"It has become obvious that the spirited fight which Edo people have put up against godfatherism has sent tremors beyond the shores of Edo to the likes of Tinubu, who has for years sustained a stranglehold on Lagos and other states in southwestern Nigeria.
Hitting hard, the Edo Governor said "Tinubu knows clearly that come September 19, when godfatherism would have been dismantled in Edo state, the people of Lagos may just have found the recipe and formula for removing the chokehold placed on their collective destinies for decades by Tinubu, hence the inciting television broadcast.
Just one month after the Edo election, the words of Obaseki may have manifested as some residents of Lagos vented their anger on Tinubu in the ongoing #EndSARS protest.
Following the killing of scores of peaceful protesters on Tuesday by security operatives in the Lekki area of the city, angry Lagosians besieged the Bourdillon Street, Ikoyi residence of the former governor with an attempt to break into the building.
Earlier in the day, Television Continental (TV), allegedly owned by Tinubu and the offices of The Nation also allegedly owned by the former governor were attacked and partly razed.
Similarly, assets whether truly owned by the former governor or not but rumoured to be were also attacked.
Tinubu has also strongly denied having a hand in the Lekki killings.
No one believed that Tinubu's looming image on the politics of the state would have allowed such insurrections as were witnessed on Wednesday.
With a lot of adversaries lurking around, especially in his party, APC, the question has now been put forward as whether Tinubu's hold on Lagos is waning, wounded or worn off?