Edo PDP Chides Oshiomhole's Group Over #EndSARS Violence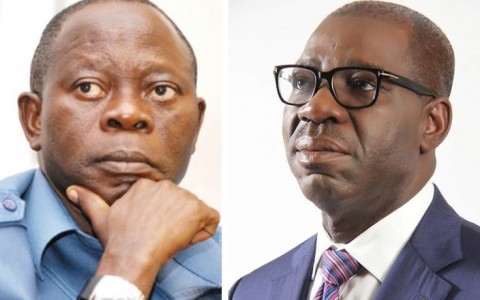 The Peoples Democratic Party, PDP in Edo State has called out the Adams Oshiomhole inspired Edo Peoples Movement, EPM for allegedly inciting protesters into the mayhem that overshadowed the recent #EndSARS protests in Benin.
The party in a statement on Saturday said that what was a peaceful protest was derailed after members of the EPM/ APC incited the protesters into looting government property.
The statement issued by the chairman of the state chapter of the party, Dr. Tony Aziegbemi, however, did not give any evidence as to the involvement of the EPM.
The EPM is a group within the APC that claimed loyalty to the erstwhile national chairman of the All Progressives Congress, APC, Comrade Oshiomhole who was also the immediate past governor of the state and arranged the first term victory of Governor Godwin Obaseki in 2016.
Condemning the spate of violence in the state under the aegis of #EndSARS protests, Dr. Aziegbemi in a statement titled, 'What Affects You, Affects Us,' said:
The Edo state government warehouse in Medical Stores Road in Benin City used for the storage of some Covid-19 palliative materials as well as medical assets including vaccines, high-end equipment and other supplies has been broken into and its content looted. We are saddened.
You will recall that Edo State Government has been in the forefront and got commendation from NCDC in its handling of the Covid-19 pandemic in the state.
Apart from the robust policy of tackling the dreaded disease it put in place, EDSG distributed palliatives upon receipt of relief materials, to the vulnerable and poor population to mitigate the impact of the COVID-19 crisis in the state especially during the period of the lockdown. Even recently, the government has been able to fall back on this strategic reserve in response to the plight of people displaced by flooding in parts of Etsako Central, Etsako East and Esan South East Local Government Areas (LGAs).
We are all witnesses to the hijack of a legitimate protest that degenerated to riots. In Edo, the protest was well coordinated and peaceful until sponsored and disgruntled hoodlums infiltrated the ranks of the genuine #EndSARS protesters.
The government was once again proactive in handling the situation and relative peace was restored that led to the relaxation of the curfew hours.
Unfortunately members of APC/EPM began to incite members of the public to go and destroy government property including breaching the government warehouse in Medical Stores Road. The behavior of these people is unacceptable and must be condemned by all.
The Peoples Democratic Party, PDP, Edo State, urges Edo people not to allow themselves to be used as tools in destroying their city. With the way they voted a few weeks ago, we believe they should join hands with Governor Obaseki to Reset Edo.