Nigerians React As CNN Sifts Sanwo-Olu Hard On Lekki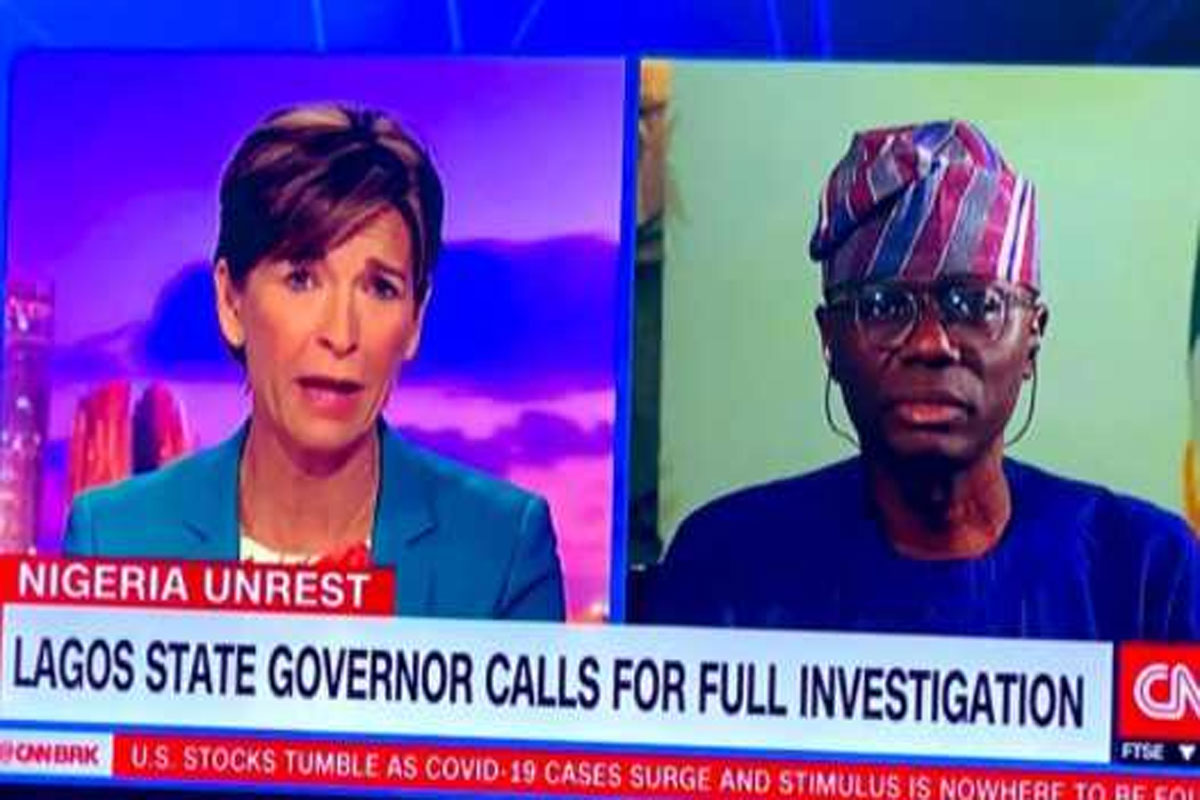 By Emmanuel Adigwe and Ayodele Oluwafemi

Nigerians are reacting with enthusiasm to the interview Governor Babajide Sanwo-Olu of Lagos State granted CNN on Monday.
GWG reports that the governor was interviewed by Becky Anderson and the governor made it clear that the military ordered and carried out the invasion of the Lekki tollgate last Tuesday.
The military high-command has, however, quivered on the issue saying that it was carrying out its investigations. That is despite claims by a group led by Femi Falana, the human rights activist, that it had even identified the barrack from where the soldiers were mobilized.
Governor Sanwo-Olu, speaking to CNN said that footage emerged that indicated that the military carried out the shooting.
This revelation of the governor has sparked reactions as some Nigerians took to their Twitter accounts to request President Muhammadu Buhari to face a similar interviewed with Becky Anderson so that more facts concerning the Lekki shooting will be revealed.
With the interview, many Nigerians argued that Nigeria political leaders are always on their heels when speaking with international media.
They also hailed the probing skills of CNN journalist, Becki Anderson, in stiffing out the truth from the governor.
GWG presents some of their thoughts below:
Eghosa Eboigbe #EndSARS@Esemaria13 wrote: "See as Sanwo dey shake, dey spill all the secrets because say Becky Anderson dey grill am. Put him in a room with Amanpour for 5 minutes and he'll come up with Tinubu's nudes and his great grandfather's birth certificate."
Abiodun (Baba Ibeji)@abiodun_impact wrote: "Whenever our politicians refuse to answer our questions here at home, I think it is better we ask foreign media to help us just like Becky Anderson made Sanwo-Olu confess today. I would prefered Amanpour though."
Olúwatósìn Olaseinde@tosinolaseinde wrote: "The next interview should be Amanpour interviewing Yemi. We want it all out. #ENDSARS."

Raymond@IamTheIroko wrote: "The way Gov Jide Sanwo Olu has been stuttering in recent interviews though. First it was with Arise TV and then his handlers delivered him to of all journalists, Christine Amanpour.. I felt terrible for him just knowing who was questioning him."
†EndSars† ˢᵀ@ennytohbadt wrote: "Becky Anderson, Christine Amanpour , those ones are highly trained journalists not all this mumu journalists we have in Nigeria that one idiot will be shouting at them about who's bankrolling who."
Osaretin Victor Asemota@asemota wrote: "The fear of visa denial is the beginning of trembling."
Lawrence Chinedu@nedbolton2 wrote: "Pikin wey refuse home training go get am outside, vividly describes Sanwolu's situation! I'm not surprised tho. Christie Amanpour is an investigative journalist who has torn through Presidents with years of experience, who the heck is naive Sanwolu!"

POOJA…@PoojaMedia wrote: "The CNN presenter, Becky Anderson told Governor SanwoOlu that i asked a simple question when she asked about the full investigation of the Lekki incident. Gov. SanwoOlu was stammering. Wow. These Politicians fear international platforms."
Uncle chu@chubiei wrote: "Sanwo Olu confessed to CNN because of Becky Anderson thorough questions but denied there were casualties to local media?? Please put Buhari up next."
Excel! @ExcelJoab wrote: "Becky Anderson no even tackle Sanwo. But e dey stammer. For say na Amanpour, e for really confess."
E Stone@Mr_E_Stone wrote: "Becky Anderson asked Sanwolu "It's a simple question..yes or no?" If it's a Nigerian journalist that puts it bluntly to him now, he will start shouting "You don't have respect" Africa has a silly complex. Only in Africa are leaders "Your Excellency". Disgusting."
Leo Dasilva@SirLeoBDasilva wrote: "Becky Anderson speaking to Sanwoolu the way public officers should be spoken to, none of that sweet talking or over hailing. Straight to the point demand for accountability. You are a public servant not a public daddy."
Trouble Maker (G.O)@ObongRoviel wrote: "The day Buhari has an interview with Becky Anderson, it's that day Jubril will resign."
Omoniyi Israel@Omoissydeyhere wrote: "If Becky Anderson of CNN interviews Buhari, Jubril go just faint."
Ned Boujwazee@chinedunedosa wrote: "Look how Becky Anderson was even talking to him.. why do they cower so much in the face of international anything?"
yobami Ayobami@dondekojo wrote: "Sanwo Olu denied casualties to local media but he can confess to CNN? Don't worry! There's more."
Miss Signage@missphrankie wrote: "I act like everything is alright but deep down I wish Becky Anderson screamed "Soro Soke" during the interview with Jide… especially when he started stuttering. "
Nappy Blaze@Nappyblaze wrote: "Becky Anderson made Jide open up on the #EndSARS shooting on CNN. Same thing Arise TV and Channels tried to do but they are now sanctioned. Everything is just a set up."
Tife@tifefabunmi wrote: "With the way Becky Anderson and Amanpour of CNN interview politicians you'll know Nigerian Journalists worship Politicians."
JJ. Omojuwa@Omojuwa wrote: "Becky Anderson doesn't have to deal with the relics in NBC. Freedom is a beautiful thing, exercising it like the likes of Arise TV but also in knowing that tools of state control & mass hypnosis like the NBC (National Broadcasting Charade) don't even exist let alone threaten you."
See reactions: