NYSC Marriage Proposal Nigerians Can't Stop Laughing About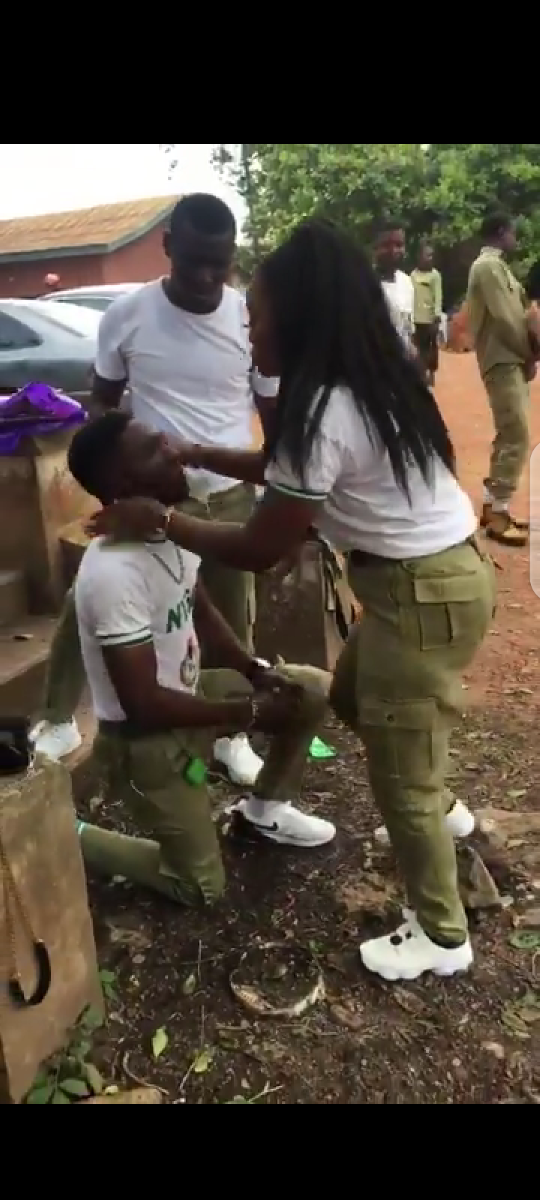 By Ayodele Oluwafemi
A viral video showing a corps member who pretended to be battling stomach complications during an NYSC passing out parade and used the stage to propose to a fellow corps member has thrown Nigerians into unprecedented laughter.
In the video, the duo appeared in their National Youth Service Corps (NYSC) uniform, when the young man, identified as Balo began to feign stomach complications, while going on his feet in pains.
His female partner, identified as Adejoke was perturbed by the pains of her boyfriend, while calling on other corps members around to help with water.
Unknown to her, it was a proposal stunt by her boyfriend.
Amid the chaos, Balo on his knees stretched forth his hand in a kneeling posture to propose to her.
The video of the dramatic love proposal was shared by Adejoke, on her Twitter handle, while emphasizing on the love she has for her lover.
"To the man of my dreams @Baloking_Hub 😫I said YES😭… I love you yesterday,Today,Tomorrow,Forever and 200 days 😁!..Thanks for loving me unconditionally 😫…And this prank got me😭😭….. " she wrote.
The video has been repeatedly shared on the microblogging platform, Twitter, eliciting reactions.
See reactions: