Shock Greets N41m Extortion Claim Against Super Cop, Abba Kyari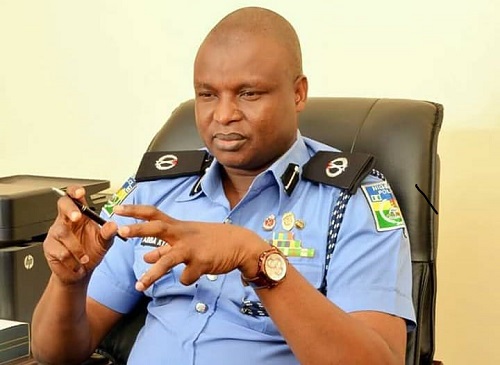 Nigerians were on Thursday reacting with shock after super cop, Deputy Commissioner of police, Abba Kyari was accused of extorting a Lagos-based businessman, Afeez Mojeed over N41 million.
According to media reports, Kyari extorted Mojeed of the sum of money in 2014 when he was the officer in charge of the now disbanded special anti-robbery squad (SARS) in Lagos.
Mojeed had written a petition to the judicial panel that is looking at the issues of police brutality of the disbanded police unit.
According to Mojeed, the police had stormed his home in the night of October 18 2014 in a gestapo style that he almost thought that they are arm robbers.
"They forcefully took his wedding ring and that of his wife from them, opened their wardrobe and took the sum N280,000 and the sum of N50,000 was also taken from his car, after which the Honda Accord (2008) model was seized and taken away till today," the petition partly read.
"The police under the supervision and threat of Abba Kyari (OC SARS) forced him to sign three Zenith Bank cheques in the sum of N150,000 each making N450,000 in total on October 22 – 23, 2014 and gave the sum to one Alabi Olawale Nurudeen who is also one of their cronies to withdraw."
The petition also revealed how Mojeed was taken to Diamond Bank, Ajah branch by one Inspector Fola, Corporal Bolu and Corporal Akeem on October 23 and 24, 2014 to forcefully transfer the sum of 41 Million and N800,000 respectively from his corporate account M. Mateen Concepts into the account of one Obinna Edward on the orders of Kyari.
Mojeed also disclosed that he tried getting justice through the Independent Corrupt Practices And Other Related Offences Commission (ICPC) and National Human Rights Commission (NHRC), but it was all futile.
He also disclosed that suffered excessive brutality as he suffered hearing difficulty, a bad right eye and recurrent chest pain.
Abba Kyari, who now heads the Intelligence Response Team (IRT) of the inspector-general of police is yet to react to these allegations.
Nigerians took to the micro-blogging platform to react to this development as many were surprised at this revelation since in the eyes of many Abba Kyari could do no wrong as a "super cop".
Many refused to believe that the allegations were true and are hoping to hear Kyari clear himself of the alleations.
GWG brings some of their reactions to the news below:
Abroad Activist@TimeyinPI wrote: "Actions described here have no relationship with policing or law enforcement. It reads exactly as it is: state sponsored criminality organised by a systemically corrupt group of officers. System on its head. 'DCP Abba Kyari extorted over N41m from me."


kING PETTY @azeezmite01 wrote: "DCP Abba Kyari children are living large in Agege in their mansions. One is even a councilor sef. #EndSARS."

Ameh Comrade Godwin@amcomrade wrote: "DCP Abba Kyari dragged before Lagos judicial panel, accused of N14m extortion."


Ndubuisi@buisilyfe wrote: "Different attempts to get justice failed. That to me, is the real problem. Let's hope he finds justice this time. But I doubt."


Your Worst Nightmare #EndSARS@pharjmusic wrote: "After reading about what DCP Abba Kyari did to Mojeed, all I can say is that, my God in heaven will punish every police officers who have illegally extorted and tortured innocent persons ."


Mr Rafiu Sanni@rofasanten wrote: "Hope he defends himself on this grievous allegation!"


Dr Adediran@Dee_run wrote: "Lagos Judicial Panel: DCP Abba Kyari has just been alleged to have been part of an extortion that sums up to N41 Million, this might just show why #EndSARS is not enough, a complete overhaul of @PoliceNG might be the solution #EndBadGovernanceinNIGERIA."


Queen of Chill… PhD (affidavit)@yelecapri10 wrote: "Is there some sort of protection given to these victims who come forward to the judicial panels? "


#ReformThePolice | Adebayo Salami@Le_Stylo wrote: "This is a very serious allegation o."
Emmanuel Ndiokwere@EmmanuelNdiokw4 wrote: "So this whole matter of #EndSARS
has reached the side of DCP Abba Kyari, the known nemesis of armed robbers and kidnappers. The whole truth has not been told!"

Ola Michael@OlaMich76517768 wrote: "So DCP Abba Kyari is also a criminal in police uniform, extorting over N41m from a business man #EndSarsNow #Endpolicecriminality."

Hyke #FanOfFisayoSoyombo@ekesunvictor wrote: "This is not the first time I'm reading about how ABBA Kyari allegedly steals from his alleged suspects. Read about the Evan's raid, the assasination/murder of the former SARS turned kidnapper guy where they took over his properties and cars."


CEO/MD of Epiphanyfarmltd. Greatness@epiphanydre wrote"Everybody got a secret! It's all about finding it! The accused is innocent until he is proven guilty."


Ballofolli@olorodeFolafolu34m wrote: "Well until proven it remains an accusation. This DCP Abba Kyari is so outstanding and I recommend him for IGP. He will reform the police."


OLAWALE OLADEJO@Olawaleonline wrote: "Reading through allegations against DCP Abba Kyari and all that's going through my mind is hoping the allegations are not true. Man's is too celebrated to be that evil and corrupt judging by those allegations."


Liquid@Mefoh_ wrote: "The packaged Jack Bauer DCP Abba Kyari is also a top notch police criminal. See why it's hard for SARS to end. All criminals from top to bottom…armed robbers. #EndSARS."

ZeroAlfa@jibrinadamu82 wrote: "DCP Abba Kyari allegedly extorted N41 million from one Afeez Mojid. We hope this allegation is not meant to tarnish the hard-earned reputation of the super cop. Both parties should get justice."