Enough RohrBISH! Fans Want Eagles Coach Sacked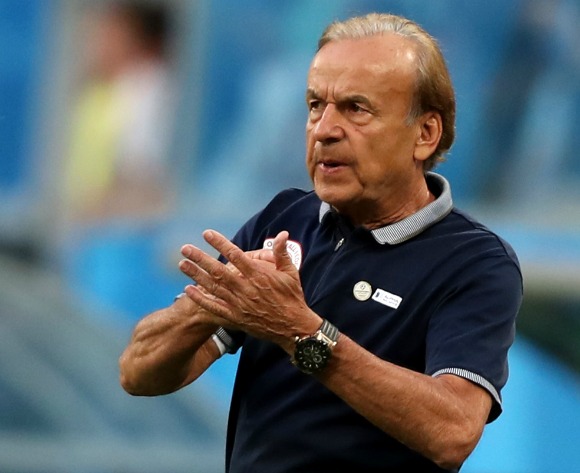 By Emmanuel Adigwe
Sports lovers and social media users have again called for the sack of Super Eagle coach, Gernot Rohr following the goalless draw against the Leone Stars of Sierra Leone.
GWG recalls that the Super Eagles last Friday from a four goal lead were forced to a 4-4 draw with the West African side.
Many expressed anger at the match outcome saying that it was time for the Rohr to exit the national team as he has not lived up to expectations.
With the grievances of last week's match not yet settled, the Eagles with its array of stars was again forced to another draw in the reverse feature in Freetown on Tuesday.
The development has again reignited the call for the sack of Rohr who many believe has overstayed his welcome.
GWG brings some of their views below:
FAST TRACK@FastTrackNaija wrote: "Soccer is the only thing that bring us joy in Naija We struggled against a team ranked 120th. Pls, thank Rohr for the WC ticket & AFCON bronze, then see him off to airport Super Eagles deserve a technically sound manager."
Mayowa Olagunju@iam_doctormayor wrote: "Rohr needs to explain why he is playing Akpoguma at Right back when we can start Awaziem who has been playing that position well. Why are we short in the midfield? What was the formation today? We cannot keep hoping for individual brilliance."
Olaleye Dada@olaleyedada wrote: "Super Eagles couldn't beat Sierra Leone home and away. Okay na. We are waiting for the "Rohr is the best thing since sliced bread gang" to come and defend and praise their god o."
Kiibati Bankole@KBT_BANKOLE wrote: "We couldn't beat Sierra Leone over two legs. SIERRA LEONE!!!"
ÀGBÈLÓBÁ@emperor_jamez wrote: "o ma shey o. Mr Gernort Rohr should be fired jor."
Octopus Ken@octopuskenn wrote: "It will be so painful to still see Rohr as super eagles coach after 12MN."
Chukwuemeka@ChuxEkere wrote: "Super Eagles of Nigeria in 2020: 4 Games 1 Loss 3 Draws 0 Win."
Ayodemintl@AyodejiAlex3 wrote: "Another international football week and no win for Nigeria…. Rohr definitely running out of time."
Godwin Enakhena@genakhena wrote: "What a shame! Nigeria and Sierra Leone trading blows in football?"
murtadoh@murtadohiam wrote: "Oga Godwin, we need to shop for a quality coach to replace this Rohr. Also, our local league should be made competitive so as not to be begging players to play for Nigeria. Anything short of these can never take the country to football glory. "
Alaba Cole@ColeStunchild wrote: "Oloshi.. Yahoo coach…. E dey use our darling Super Chicken to catch cruise.. Rohr?? Walahi onigbadun."
T.O.M.I.S.I.N@TheTweezyTee wrote: Very useless manager, with an enormous amount of talent at his disposal but can't utilize them."
David Hundeyin@DavidHundeyin wrote: "Keshi had a far inferior team on paper, but he got out of a tough world cup group and won the AFCON. Rohr stumbled to an AFCON bronze and couldn't get out of a WC group with Iceland and the worst Argentina team to ever play at a world cup. I intensely dislike double standards."