Mixed Feelings Over Kalu's N100b Arsenal FC Bid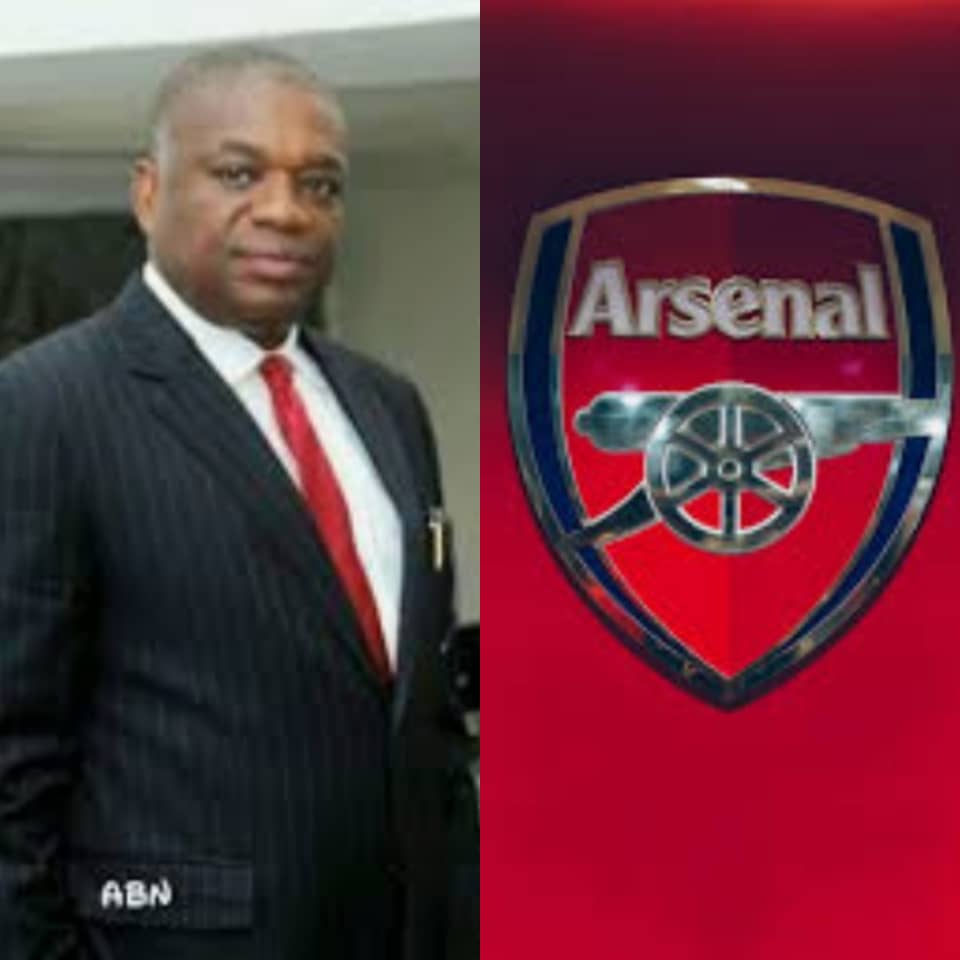 By Emmanuel Adigwe
Orji Uzor Kalu's proposal to expend N100 billion for a 35% state in Arsenal has been received with mixed emotions by Nigerians with a significant proportion telling him to plough the money if he has it into Nigeria.
Kalu had stirred the hornet's nest on Tuesday on twitter with his claim that he was considering buying a 35% state in Arsenal.
Arsenal is presently valued at 631.95 million euros estimated at N285.6 billion.
That would mean that the former governor and incumbent Senate Chief Whip would cough out N100 billion to obtain the 35% stake
While some Arsenal supporters welcomed the suggestion, there was, however, a caution to the politician not to play with their emotion with one fan noting that that 'is the way that Dangote' has been playing with the emotion of the Nigerian supporters.
Orji had said: "Our success with Enyimba FC btw 2000-2007 has continuously increased my passion for football. As the pillar of sports in Africa, I am considering an investment in football & I will buy 35 percent stake in Arsenal FC @Arsenal. Our target is to lift the Champions League & EPL. Back to back as we did with Enyimba. #OUK."
GWG recalls that the former Abia State governor together with former chairman of Enyimba FC, Felix Anyasi–Agwu, were instrumental for the domestic and continental successes of the Peoples Elephant as they won trophies back to back.
His recent intention to buy shares in the London club elicited attention as some denizens on the micro-blogging space aired their views concerning his intention. Some enjoined him to invest in local clubs while some stated that the investment should be done in his constituency instead of the London club. GWG brings some of their views below:


Samuel orji okorocha@Samisluv1 wrote: "congratulations Sir. I want you to by Enyimba FC and turn it to Arsenal of Nigeria. we need people like you to invite in Nigerian league just like Dr Ifeanyi Ubah."


Christopher Sunny@ituma2496 wrote: "That will be great Your Excellency. If you can actually match your words with action, Nigeria and indeed Africa will be so proud of you. I would have preferred your doing it before making it public. Dangote has been buying stakes in Arsenal for the past God knows how long now."


Sammy Sammy@sammy101sammy wrote: "Boss u sure say arsenal still get future so ???? I for suggest Liverpool, abeg make arsenal fans no take me serious oooooooooo."


Ugen Ben@BenUgen wrote: "@Arsenal Abeg, abeg, abeg, just do it, don't say it. This how Dangote has been messing with our emotions for the past 10 years."


Onyeukwu OM@MartinsOnyeukwuwrote: "Good business idea Chief, also you should think of building and supporting the local team back home, it doesn't stop you investing in EPL, Laliga, Bundesliga etc."


Kaycee Inyachukwu@Kaycee_Bishop wrote: "Why not buy Enyimba and turn them into Champions again?"


Opeyemi Emmanuel@emmanike11 wrote: "Good move! But Champions League. May be you mean Emirate Champions League."


udorah chidiebere@chidex1498 wrote: "This not what your people need use that money to impact the life of your… Is time for you to give back to Abia state… The environment in a mess."


Christopher Sunny@ituma2496 wrote: "He has been the best politician from Abia State. He has been doing well. Let him do what is good for him. After all, he didn't say he would borrow money from you."


Gvieve X @Gviev wrote: "Good morning honorable Sir. I come in peace.Rule 1: Never announce your private /personal plans publicly until you fully execute or seal it. Best of Luck!"


Samuel orji okorocha@Samisluv1 wrote: "congratulations Sir. I want you to by Enyimba FC and turn it to Arsenal of Nigeria. we need people like you to invite in Nigerian league just like Dr Ifeanyi Ubah."


Christopher Sunny@ituma2496 wrote: "That will be great Your Excellency. If you can actually match your words with action, Nigeria and indeed Africa will be so proud of you. I would have preferred your doing it before making it public. Dangote has been buying stakes in Arsenal for the past God knows how long now.."


Sammy Sammy@sammy101sammy wrote: "Boss u sure say arsenal still get future so ???? I for suggest Liverpool, abeg make arsenal fans no take me serious oooooooooo."


Onyeukwu OM@MartinsOnyeukwu wrote: "Good business idea Chief, also you should think of building and supporting the local team back home, it doesn't stop you investing in EPL, Laliga, Bundesliga etc."


April@candybliss95 wrote: "35% is huge."


Kaycee Inyachukwu@Kaycee_Bishop wrote: "Why not buy Enyimba and turn them into Champions again?"


Opeyemi Emmanuel@emmanike11 wrote: "Good move! But Champions League. May be you mean Emirate Champions League."

udorah chidiebere@chidex1498 wrote: "This not what your people need use that money to impact the life of your… Is time for you to give back to Abia state… The environment in a mess."