Nigerians Mock, Ask NBC To Sanction CNN Over Lekki Documentary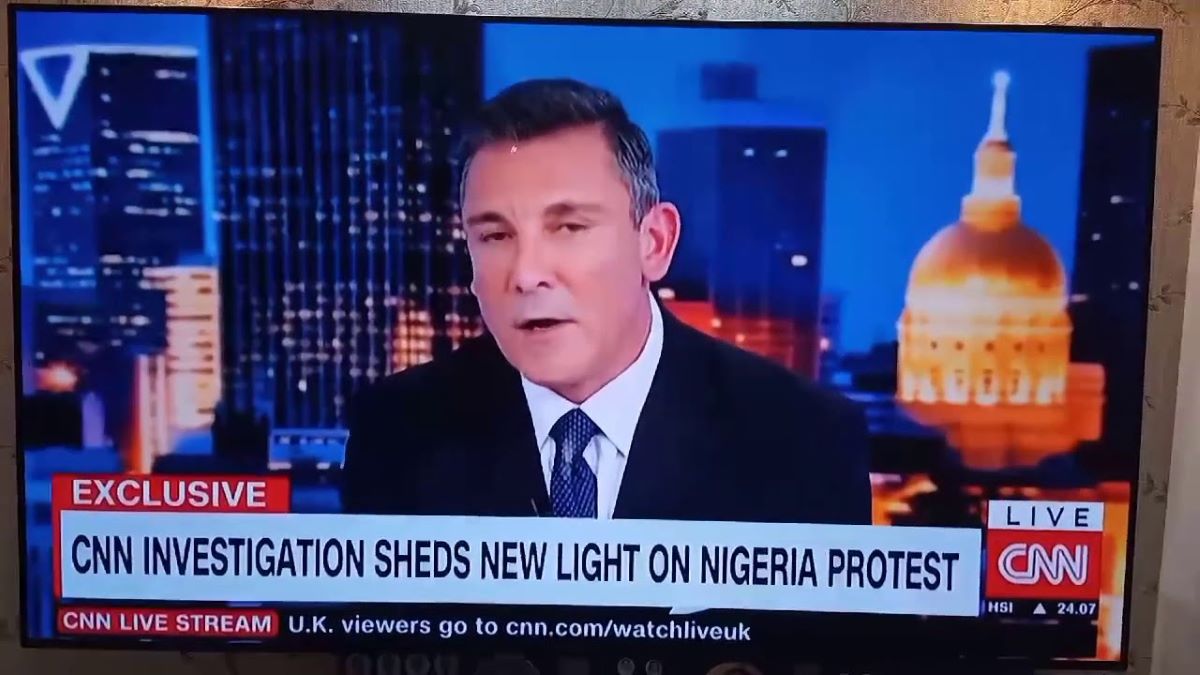 By Emmanuel Adigwe
Following the recently released documentary of the Lekki toll gate shooting on CNN, the American television network, some Nigerians have taken to their social media accounts to ask the Minister of Culture and Information, Lai Mohammed and the National Broadcasting Commission, NBC to sanction CNN.
GWG writes that in the aftermath of the #EndSARS protest, the Nigerian Broadcasting Commission (NBC) had fined three media houses including AIT, Channels TV and Arise News, claiming they used unverifiable video footage from social media to cover the #EndSARS protests. According to the commission, broadcast stations must "perform the role of a peace agent by adhering to the principle of responsibility, accuracy and neutrality" in reporting the protests.
The dust of this controversy had hardly died down, when CNN broadcast its documentary on the Lekki shooting where it disclosed that Nigerian Army shot live bullets at the protesters.
CNN also disclosed graphic details of the protest using eye witness accounts of how law enforcement officials cracked down on the protesters.
Reacting to this development, some Nigerians took to the Micro-blogging platform to ask if CNN will also face the hammer of NBC for its report on the Lekki toll gate shooting.
GWG brings some of their views below:
ANON@yabadooooo wrote: "Lai Mohammed realising he can't send DSS to Atlanta to lock up CNN's office."
Seyi @Seyi__ wrote: "Lai Mohammed cant fine CNN. It must be so hurtful."
Bane@Sujodamystique wrote: "Lai Mohammed and co must be livid. I'm pissed they didn't mention Sanwo Olu's name but we move. Hope all those witness faces they showed are safe though."
Auay Jokesomefun@Sunday_Akinjide wrote: "Lai Mohammed and NBC crew on theire way to sanction CNN."
ANON@yabadooooo wrote: "Lai Mohammed realising he can't send DSS to Atlanta to lock up CNN's office."
Bane@Sujodamystique wrote: "Lai Mohammed and co must be livid. I'm pissed they didn't mention Sanwo Olu's name but we move. Hope all those witness faces they showed are safe tho."
Emmanuel Olabayo@bayonuels wrote: "Femi Adesina and Garba Shehu will be running from pillar to post, looking for ways to discredit CNN's detailed report on the events of #LekkiMassaccre #EndSARS Lai Mohammed can't harass this media outfit; he must be in pains right now."
Loveth@OreofeLoveth wrote: "Lai Mohammed will come out and deny it and say international media are trying to push citizens against the government."
POOJA…@PoojaMedia wrote: "CNN is affecting our democracy so the Govt should; – Ban foreign news – Ban Nigerians from watching CNN – Ban cable TV – Enforce the watching of only NTA & terrestrial channels. We need to protect our democracy against external forces."
ᴅᴇʀᴏᴄkᴏғғɪᴄɪᴀʟ@DeRockOfficial wrote: "Waiting for Oga Lai Mohammed to refute the
Uncle Ajala@UNCLE_AJALA wrote: "CNN even traced the bullets that Army used on peaceful protesters to Serbia. Nigeria Army bought those bullets in 2005, omo investigation pass investigation, the sweet part of this is that the army can't call it photoshop, NBC can't query CNN, Police can't arrest them. #EndSARS."
Duke of Awka @iamdlaw2 wrote: "There is an emergency WhatsApp meeting going on to discredit the CNN documentary on the #LekkiMassaccre. Give it a few hours and you'll start seeing their ridiculous takes. Group Admin is Adamu Garba Lai Mohammed Femi Adesina & Buratai."
Abraham Atta MUFC@AttaAbraham wrote: "Watch Lai Mohammed tell NBC to ban CNN from Nigerian airwaves that's what could happen now."