Enugu LG Boss Mocked Over Billboard For Accident Victims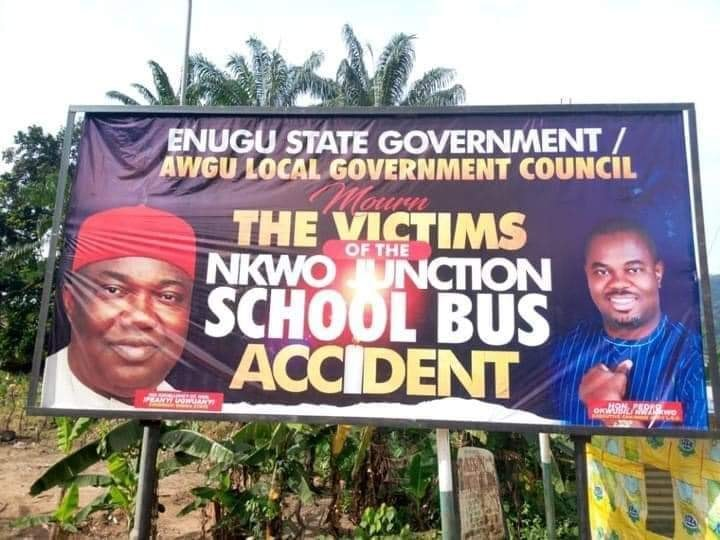 By Emmanuel Adigwe
The Local Government Chairman of Agwu in Enugu State, Pedro Okwudili Nwankwo, has come under criticism for putting up a huge billboard to mourn victims of last month's tragic school bus crash.
The billboard, however, showed him laughing!
GWG recalls that eight pupils of Presentation Nursery and Primary school died in an auto crash in Awgu, a town in Enugu.
A Facebook user, Sen. Chijinkem Ugwuanyi, who shared the picture, enjoined the LG Chairman to remove it as the picture which showed the LG chairman laughing, appeared insensitive to some.
Sen. Chijinkem Ugwuanyi wrote: "If you know this local government chairman from Awgu Local Government council in Enugu West called Hon. Pedro Okwudili Nwankwo, pls tell him to remove this immediately."
Reacting to this, other social media users berated the LG Chairman for the billboard.
One Marcellus Ejiofor Nnadi said that whoever put up the billboard deserves serious beating.
Odumegu wrote: "This one weak me. A whole local govt chairman announcing his ignorance on billboard with total address down to his political identity."
Anthony Tansi wrote: "It is too bad to place this kind of billboard, smiling and claiming to be mourning."
Ugochukwu Victor Brounc wrote: "What is the meaning of this. Very soon he will mention the money he used to do this. And again must he use our governor's picture on it? He better removes it."
Eze Heroshema Chukwunonso wrote: "Hahahahaha Enugu State Government and Awgu local government is mourning the children that died in motor accident."
Pascal Echezona wrote: "I don't understand. Is he trying to say that himself and the Governor are the victims of the accident?"
Nkiruka Frances Omeje wrote: "Are they also the victims. Abi na grammar blunder, what a shameful bill board and they forgot to add ENUGU IS IN THE HANDS OF GOD."
Chrisemmy Odumegwu wrote: "This one weak me, a whole local government chairman announcing his ignorance on billboard with his total address down to his political identity. Honestly am speechless."