Can Aregbesola Live Without Drama?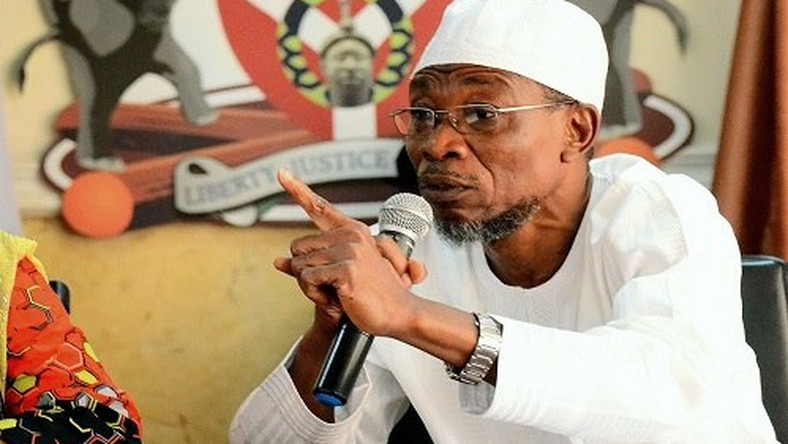 By Emmanuel Aziken
Some of the most memorable recollections of your correspondent on the beat included engagements with Governor Rauf Aregbseola. Meetings with him were normally fixed for the evenings and normally would not take off until about midnight.
The meetings with journalists were also laced with much drama, especially when the governor was faced with probing questions.
When faced with such embarrassing questions, he would pull back and say, 'that is not the question you should ask.' He would then rephrase your question and answer the question he has so rephrased!
He undoubtedly remains one of the most engaging political actors in the Southwest. He successfully built a political base from Alimosho, Lagos and used same to upturn the Peoples Democratic Party, PDP in Osun.
It was perhaps his night political animation that led him as governor to introduce the phone-in radio programme, "Ogbeni Till Day Break."
The periodic radio programmes allowed citizens to call in and address their issues directly with the governor.
Good as it looked, but it was stupefying why a governor would prefer to engage his citizens in the night when they should be sleeping and expect them to be productive in the day time when men ought to work!
So, given Aregbesola's political effervescence, the ongoing drama around him and his successor was not totally shocking.
But how yesterday's second anniversary of the Gboyega Oyetola administration was almost overshadowed by controversies over a rival celebration of ten years of 'progressive governance' in Osun State may also have opened the eyes into the fracture in the camp of Asiwaju Bola Tinubu.
Ogbeni Aregbesola, who proposed the ten-year anniversary of 'progressive governance' was one who had by words and actions in the past portrayed himself as Asiwaju's political alter ego.
The man celebrating two years in office as governor is famously regarded as a near-kin of the national leader of the All Progressives Congress, APC.
So, how the three were not able to address the issue is one that may have befuddled many.
As a source familiar with the squabble told your correspondent, Tinubu is in a bind. Asiwaju should not be seen to be openly rebuking a longstanding political associate because of a brother. He also should not be seen to be openly turning against his brother because blood is thicker than water.
Some ask, what is Aregbesola's beef?
Oyetola has reversed many of the very unpopular decisions taken by the Aregbesola administration especially in the education sector.
Even more, Oyetola according to sources has gone out of the way to make friends or be at peace with Aregbesola's 'eternal enemies' including notably, Senator Iyiola Omisore.
For a man of struggles like Aregbesola that may have been disconcerting. But some also say that Aregbesola did not rebuke Nasir El-Rufai when the Kaduna governor embarrassed Tinubu during his 60th birthday colloquium!
Even more, are rumours about Aregbesola not working in synergy with the 2023 agenda of the Tinubu camp. Aregbesola was, however, quick to dismiss the claims pledging enteral loyalty to his political leader, Tinubu.
However, those who say he has a reason to be miffed point to the demobilization of his political network in Lagos following the disbandment of the Mandate Group.
Remarkably, when the Governor's Advisory Council, GAC in Lagos took the decision last July, Aregbesola was not briefed. Embarrassingly for him, it happened just two weeks after the minister had reorganized the group with the purpose of making it stronger.
So, when the minister decided to celebrate ten years of 'progressive governance' in Osun State, perhaps it was with the intention of oiling his political machine in his state of birth. If he was demobilized in Lagos, he certainly did not want to be turned into complete history in Osun State.
However, as it later emerged, the minister may have acted without tact in his approach to the incumbent governor.
Even if Oyetola served Aregbesola as chief of staff for eight years, many think that the former should be given the courtesies of his present office. If not, then on account of age. Oyetola is six years older than Aregbesola.
Aregbesola's letter to the governor informing him of the celebration of ten years of 'progressive governance' was written on Monday, November 23, 2020, well after the crisis between the two men over the celebrations became public in the media.
So embarrassing has been the faceoff between Aregbesola and his successor that the PDP which was not too long ago a common foe of the two men invited itself into the matter.
Even more, the penultimate governor of the state, Olagunsoye Oyinlola stepped in with the narration that as governor that his predecessor, Baba Bisi Akande never disturbed him. He also reminded Aregbesola that despite the hostile takeover in November 2010 that for the eight years that he, Aregbesola was governor that he was not disturbed.
Oyinlola then went on to urge Aregbesola not to disturb Oyetola.
If anything, sources disclose that the fight between the two camps is now so dirty that it is feared that the common platform by which they came to political reckoning may become endangered.
For a man given to much drama as Aregbesola has been used to, this is what happens when you find yourself around a president like Muhammadu Buhari who is not used to drama.
You now have to provoke the kind of drama that ten years of 'progressive governance' symbolizes.