Soldier Beats, Strips Lady For Indecent Dressing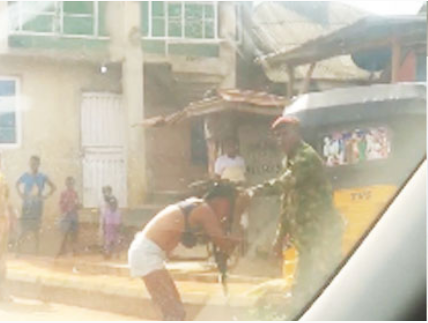 An unknown soldier has beaten a lady to pulp after he accused her of indecent dressing. The incident according to The Punch happened round 9:47 am at Oju-Ore in the Ota area of Ogun State.
The lady, was clad in a pair of shorts and white knitted coverup, and was trekking on the road when she was assaulted.
The newspaper reported that the soldier, who was riding in a commercial bus, alighted from the bus and pounced on the young lady, unprovoked.
Eyewitnesses reported that he slapped the young lady repeatedly and when the shocked lady attempted to run away from the unprovoked assault, he pulled her back violently with her braided long hair.
The soldier was caught on video yanking off the young lady's blouse and had also wanted to take off her bra when passersby intervened.a
They begged him repeatedly before he let go of the lady.
He then joined the commercial bus he was riding in and the driver drove off.
Send Us A Press Statement Advertise With Us Contact Us