Kwankwanso Opens Up On Why Ganduje Deposed Sanusi As Emir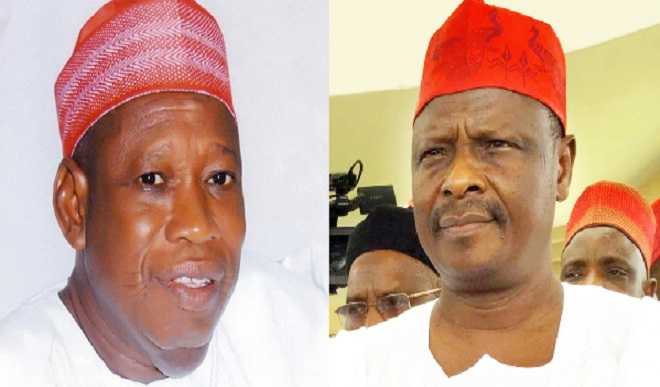 Former Governor Rabiu Kwankwanso has opened up on why his successor, Governor Abdullahi Ganduje deposed Alhaji Muhammadu Sanusi as emir.
In a statement reacting to the claim by Governor Ganduje that Sanusi was made emir to spite President Goodluck Jonathan, Kwankwanso debunked the claim saying that Ganduje was not let in into the process for the selection of the emir because he was known to be anti-progressive.
Senator Kwankwanso in a statement issued by his principal private secretary, Muhammad Ali, the former governor accused his successor of telling lies at the launch on a book on Dr. Jonathan saying:
"Sen Kwankwaso was looking for a progressive emir that will succeed the late emir and certainly everyone that knows Gov. Ganduje will attest that he is not a progressive and hence that was why Sen. Kwankwaso deliberately refused to consult him on the choice of Muhammad Sunusi II as new Emir.
"Being a leader with foresight Sen. Kwankwaso is of the view that whenever an opportunity presents itself to a leader to make a decision that will be a lifelong appointment one must not make such a decision on personal sentiments because these sentiments might change and then what happens to such a decision?
"Therefore, the choice of Muhammad Sunusi II was made among other contestants because he is the most knowledgeable in both Islamic and western education, he is the most experienced and enjoys tremendous amount of support and goodwill from the kingmakers, the emirate council and indeed the good people of Kano state; this was what informed his appointment.
"In fact, one of the glowing tributes paid to the selection and appointment of Emir Sanusi II was made by the then Deputy Governor of Kano State, Dr Ganduje who on Friday 13th June, 2014 had this to say on a live program on Channels Television and Freedom Radio:
"Sanusi was the best among the candidates to be appointed as Emir of Kano. His wealth of experience as one of the best economists in the world, and his trustworthiness is always his weapon. Remember how he exposed how billions of dollars were stolen by some person under President Jonathan administration
"I congratulate HE Rabiu Kwankwaso for choosing the right person at a time Kano and Nigeria need people like Sanusi Lamido Sanusi at this position."
"It is therefore beyond hypocrisy for Gov. Ganduje to stand on a podium and publicly contradicts himself because of sheer opportunism and malice. Listening to his lies was akin to listening to the braying of a donkey – it irritates you, but you pity the donkey.
"But we are not surprise. Because we know that Gov. Ganduje is averse to everything that Emir Sanusi II represents (knowledge, wisdom, experience, progressive ideals, and the love for the common man), and we know that Gov. Ganduje always feels diminished and inferior in the presence of the Emir, and we know that Gov Ganduje harbours a pathological hatred for the Kano
"Traditional Institution, and we know that Gov. Ganduje was madly obsessed with reversing everything that Sen. Kwankwaso did in the state. And we are aware, for these reasons, Gov. Ganduje was set, ab initio, to destroy the Kano Emirate. And Emir Sanusi II was marked to be the first victim.
"Everyone knows that Gov. Ganduje's desperation to obtain the $1.8 billion loan and the former Emir's criticism of the loan is what fuelled the illegal removal of Emir Sanusi II; it had nothing to do with former President Jonathan. It is common knowledge that the Emir was too progressive for Gov. Ganduje's liking and that was exactly why after his illegal removal and the dismemberment of the Kano Emirate Council, he appointed Emirs that will not question his ill-advised decisions even if they are against the interest of the state and its people.
"Little wonder therefore that the new emirs are keeping sealed lips while the governor who also doubles as the commissioner for land and survey is butchering all public properties and grabbing every piece of land for himself and his family.
It is inconceivable how any right-thinking person will even contemplate destroying and selling places of cultural heritage, mosques premises, cemeteries, school premises, and many such other public places, like the:
900 years old 14km Kano city wall (Ganuwa) which is a UNESCO World Heritage Site;
Central Eid Ground;
Fagge Juma'at Mosque;
Kano Zoological Garden;
Triumph Publishing Company;
Institute of Hospitality and Tourism of the Kano State University of Science & Technology Wudil;
Kano State Polytechnic Staff Quarters & Old School of Management Studies;
Graveyards;
Demolishing and selling a multi-story parking lot at Shahuci; and
Numerous public land across the 44 local government councils.
"Perhaps, the Governors' primitive accumulation tendency and his insatiable hunger to be the biggest land-owner in the state is the reason for his refusal to let go the position of commissioner for land in the last four years. We will like to take this opportunity to say that as the main opposition party, the Peoples Democratic Party; we will reverse the sell and allocation of these public properties whenever we have the opportunity to do so."