New Insights Into Obasanjo's 'Igbo Lineage'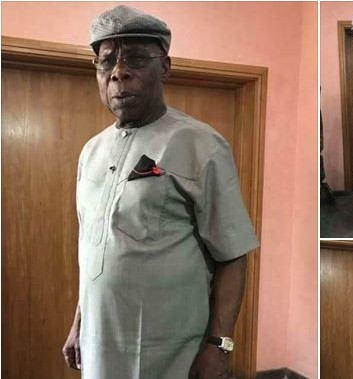 By Chuks Ekpeneru
This writer visited Ota, Ogun State in 2008, a few months after former President Olusegun Obasanjo finished his two terms and felt the pulse of the residents there.
Then the Ota bridge was still under construction, while the road to Lagos was (still) in a sorry state.
The people of Ota spoken to felt dejected that Obasanjo didn't benefit them in terms of infrastructural development. Some others felt that he carried his well-known nationalistic posture too far and didn't go the extra mile for them and the Yoruba in particular.
They said that other leaders had used the position of head of state maximally to the benefit of their people and lamented that OBJ deviated from that pattern.
President Obasanjo will be credited as the leader that embraced all Nigerians, irrespective of religion and tribe.
During his tenure businessmen from across the country including Aliko Dangote, Tony Elumelu, Jim Ovia, Femi Otedola among many others thrived tremendously.
In the political scene, Rabiu Kwankwaso, Sule Lamido, Bukola Saraki, Goodluck Jonathan etc owed their ascendancy to him.
Throughout his eight years, nobody from the South-West tested the prestigious and sensitive positions of Chief of Army Staff, National Security Adviser, Minister of Defence, Chief of Staff etc.
Obasanjo's Igbo Lineage According To Senator Adefuye
Therefore, when Senator Anthony Adefuye, a close political ally of the APC National Leader, Ahmed Bola Tinubu insinuated that Obasanjo is from Anambra State in the South-East with a Yoruba mother, it rekindled the perspectives of some political leaders in the South-West.
According to Adefuye "Some people may argue that what about Obasanjo? Obasanjo is not a Yoruba man. He is an Igbo man from the South-East. His father was from Anambra while his mother was a Yoruba woman. And that was why during his tenure, he completely ignored the South-West. For example, throughout his eight years, he did nothing on the Lagos-Ibadan Expressway.
Insisting on Obasanjo's Igbo lineage, Adefuye said:
"But he did a lot for his people in the South-East. He picked five ministers from there and even appointed the Governor of the Central Bank of Nigeria from Anambra, where his father came from.
"So, it is right for the South-West to demand for the Presidency in 2023. What we should be doing now is to work towards 2023 to ensure that the Presidency comes to the South-West. The South-West has never produced the President before."
As eyes shift to the South-East to produce the President in 2023, in what is seen as attempt to enshrine fairness and equity, those muttering Obasanjo's link to the Igbo may be trying to send a message that indeed the former president benefitted the Igbo more and has used their slot.
Adefuye may just be speaking their minds as some of them have queued behind Tinubu who has not hidden his desire to take over from President Muhamadu Buhari in 2023.
However, Afenifere, the apex Yoruba Socio-Cultural Organization, through their spokesman, Yinka Odumakin, rubbishes the speculations.
Odumakin said, "That was a twisted and perverted logic. The South West produced Nigeria's president in the person of Chief Olusegun Obasanjo for eight years 1999-2007. If anyone wants to be President, he should go ahead but not use the name of the highly sophisticated Yoruba race to push through a perverted logic to try to sell his candidacy. Chief Obasanjo is a Yoruba man."
Send Us A Press Statement Advertise With Us Contact Us