Service Chiefs: Ejiofor, Shehu Disagree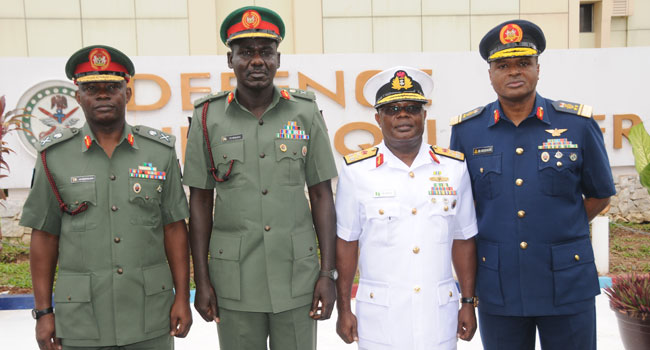 By Chuks Ekpeneru
A former Director of the Department of State Security, Mike Ejiofor, has disagreed with Senior Special Assistant to the President on Media, Mallam Garba Shehu on persistent calls for change of the service chiefs.
Speaking on Channels Television on Monday, Ejiofor said it was high time President Muhammadu Buhari change the service chiefs.
Ejiofor urged the president to surprise Nigerians by changing the service chiefs. Shehu in another programme said it was the sole right of the president to determine when and if to sack the service chiefs.
He said that new service chiefs would bring new tactics, equipment and approaches in the fight against insecurity.
He said, "I expect that Mr President should take Nigerians by surprise, change the service chiefs; and Nigerians, their attitude to security agencies, should change too.
"I think by the change of tactics, equipment, attitude, service chiefs, and approaches, we'd make some progress, I believe very strongly."
However, the service chiefs, Shehu said in another programme on Arise TV, would remain on duty until the president changes his mind.
He said, "I am not aware that the tenure of service chiefs is subjected to any law or regulation that is clearly stated. They serve at the pleasure of the president and (if) the president is satisfied with their performance, he keeps them. The buck stops on his table —with due respect to the feelings of Nigerians.
"The clamour for the sack is out of place considering that the president is not subject to the opinion of opposition political party which has clamoured for this all the time. It is entirely his own determination; he decides who he keeps as his service chiefs and for how long."