Kukah Denies Calling For Coup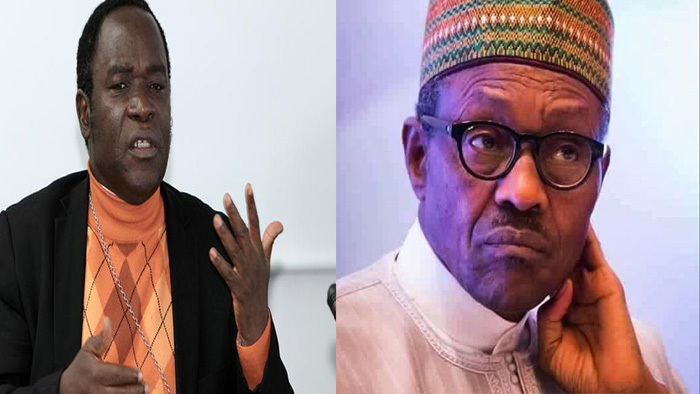 Bishop Matthew Kukah has denied calling for a coup just as he insisted that his criticism of the Muhammadu Buhari administration was completely justified.
Speaking to newsmen in Sokoto, the bishop of Sokoto Catholic Diocese, said his Christmas Day message was based on his love for Nigeria.
GWG reports that Bishop Kukah had in his Christmas Day homily accused the Buhari administration of fueling injustice in the country in its appointments and incompetence saying that if a non-Northern Muslim had done a fraction of what the Buhari government did it would have been overthrown.
Reacting to the criticism that followed the homily, Kukah denied he called for a coup.
He said:
"It is sad that when you drop something in Nigeria, everybody goes back to their enclave and abandons the larger picture. I am someone who never takes offence or what people say about me.
"What I said was my opinion based on evidence and what has happened in Nigeria and if you look into the records, there are evidence that justify that statement, and if anyone thinks I am wrong, they should come out with superior position.
"It is unfair for a journalist or news medium to report that I called for a coup while I am expressing my personal view about Nigeria."
On calls on him to leave the pulpit and enter politics, he said that he was well past that stage saying he could only have entered politics during the time of the late Aminu Kano.
"Take for instance, brilliant Nigerian youths making comments about Chelsea or Arsenal and have never been to England, does that make them players of such club sides?
"So, why will someone think because Bishop Kukah is speaking, therefore, he is a politician? People who make this argument are totally ignorant of elementary politics and ignorant of the role of a priest.
"The truth is that a lot of us have not seen a priest saying what I am saying. The truth of the matter is, we are all in politics but, party politics for me, No. I am not a member of any political party and I cannot be; if it comes to voting, I do my right.
"I have no problem with Muslims, Christians or any other religion, but what I don't like is when someone is using religious issue to play politics, it is wrong."