Buhari's S/South Men Causing Problems – Group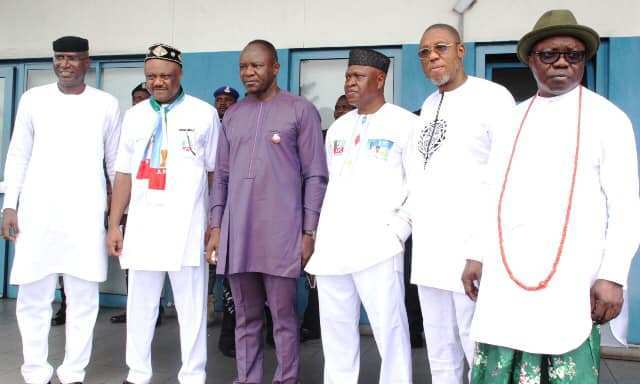 By Chuks Ekpeneru
A South South group, the South -South Youth Vanguard, has accused some prominent ministers from the region in President Muhammadu Buhari's government of destabilising the region.
Specifically, the Minister of Niger Delta Affairs, Godswill Akpabio, the disMinister of Transportation, Rotimi Amaechi, the Minister of State for Petroleum, Timipre Silva and the Deputy President of the Senate, Ovie Omo-Agege were accused of not having the interest of the region at heart
In a statement by its National Chairman, James Efe Akpofure, the group said that their only interest is how to protect themselves and take advantage of the region to their benefits.
He said that they have not made any impact on the region.
The South-South Vanguard said that these prominent sons from Niger Delta cannot point out what they have done for the region since they assumed position in this present government.
The youth group further noted that they were more interested on who among them takes the leadership role of the region instead of thinking of how to develop the region.
The group also accused Akpabio of appointing a sole administrator to manage the affairs of the Niger Delta Development Commission (NDDC) to service his selfish Interest.
The South-South Vanguard said: "We find is difficult to comprehend that since appointed and elected as ministers and lawmaker, they continue to take advantage of the region to their benefit.
"The region has not seen the dividend of their appointment or elected as lawmaker. They have not impacted the region and the only thing we notice among them is the fight to take leadership role of the region. We can no longer take this as they have taken too much advantage of us."
The assertions of the group come against the background of disquiet on the alleged neglect of the area.