How City Bullied Chelsea At Stamford Bridge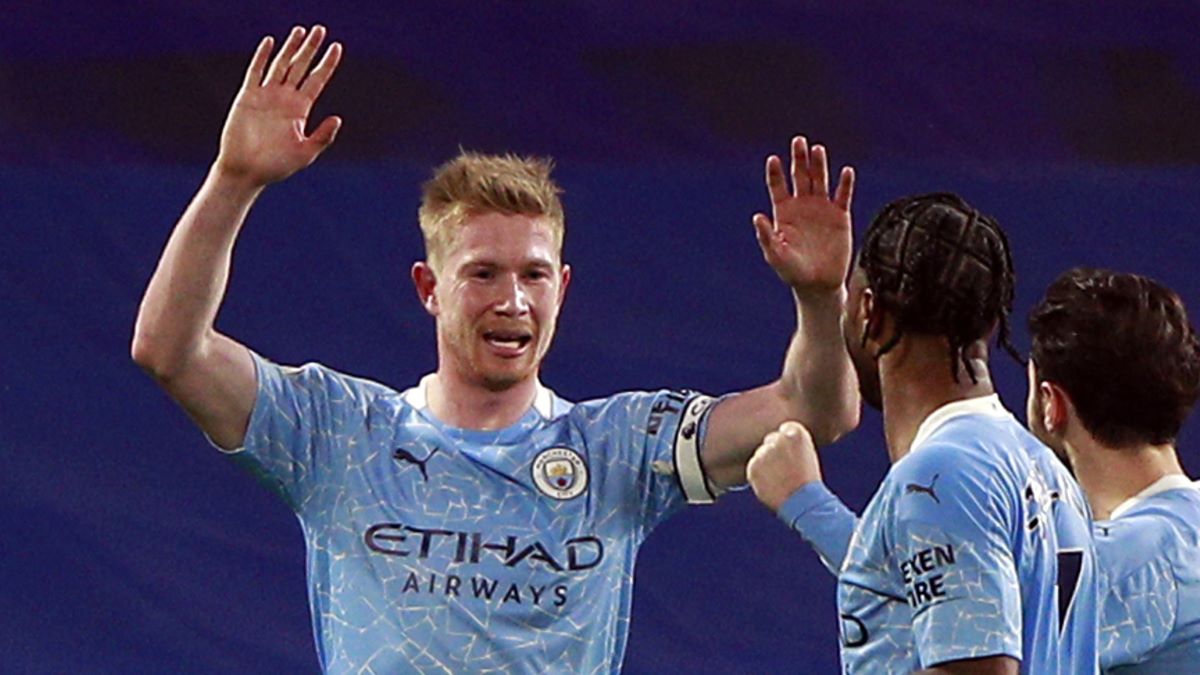 By Ekene Dike
Manchester City bullied Chelsea into a 3-1 win at Stamford Bridge on Sunday. After showing some seriousness in the opening minutes, the host resorted to play second fiddle to their visitors for the rest of the game.
For the first time this season, City scored three goals away from home, interestingly all the goals came in the first half, underlying the fact that City bullied Chelsea at the bridge.
Their dominance on the ball would cut Chelsea open as they had a nice attempt at goal from Kevin De Bruyne in the 15th minute. Eighteen minutes on the clock, Ikay Gundogan scored a brilliant goal after a fine display from the City team. Zinchenko passed the ball to Foden, whose dummy made the ball fall to the path of Gundogan. Gundogan made a swift turn and placed it low, Edouard Mendy got a hand on it, but, the ball went into the net.
Phil Foden's near post finish from Kevin De Bruyne's pick out in the 21st minute made the game 2-0. His goal made him become Manchester City's youngest scorer in Premier League games against Chelsea – at the age of 20 years and 220 days.
City bullied Chelsea more and should have had a third from Juan Cancelo's volley in the box which went over the bar. Kevin De Bruyne made it three in scintillating fashion in the 34th minute. Kevin De Bruyne is now the first Man City party layer to score in 3 successive PL apps v Chelsea since Carlos Tevez, December 2009 – September 2010. Additionally, the Belgian has now scored four goals against Chelsea in the Premier League, the most a former player has netted against the Blues in the competition. At halftime, Chelsea were melting in the heat as they were trailing 3-0.
After the break, Zinchenko and Rodrigo failed to extend the lead in the 49th and 53rd minutes. Although, Mendy's great stop from Rodri's header in the box was vital.
Chelsea looked toothless for the rest of the game as City bullied Chelsea, until Calum Hudson Odoi got a consolation goal in the first minute of added time. Kai Havertz found him with a first time pass into the box, and Odoi made no mistake with his finish. In the same game that Phil Foden became Manchester City's youngest Premier League scorer versus Chelsea, Callum Hudson-Odoi has become Chelsea's youngest scorer in Premier League games against Manchester City.
Nevertheless, Manchester City joined the list of elated teams like Arsenal, Manchester United, Tottenham and Leicester City that won their first matches of 2021.
Worrying moments for Frank Lampard as his Chelsea side have three points fewer after 17 league games than they did last season (29), whilst in the Premier League era, the Blues have never finished higher than 6th when amassing a maximum of 26 points at this stage of a campaign.