Urhobo Take Action On NDDC Sole Administrator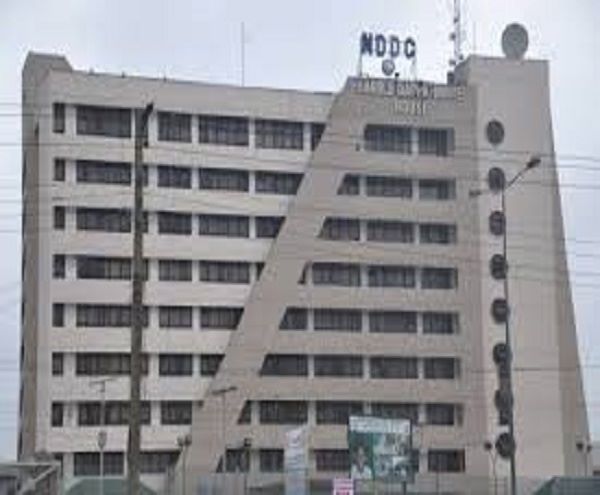 Travellers on the East-West road were held up for hours on Thursday as Urhobo youths protesting the appointment of a Niger Delta Development Commission, NDDC sole administrator barricaded the highway in Delta State.
The youths under the aegis of the Urhobo Youth Leaders Council, UYLC vowed to take further action after 21 days if their demands for the inauguration of a board for the NDDC were not heeded.
The youths also demanded the sack of Mr. Effiong Okon Akwa as sole administrator of the NDDC.
The protesting youths were drawn from all the Urhobo kingdoms in Delta Central.
President of the UYLC, Comrade Lucky Emonefe who led the protest also promised dire consequences for Urhobo political leaders he claimed were sabotaging the collective interests of the Urhobo nation.
GWG reports that the protest on Thursday took place at the Agbarho axis of the East/West road in Ughelli North local government area of Delta State.
The protesters carried different placards some of which read:
"Akpabio should stop deceiving Mr. President,"; "We are in support of the forensic audit but we need a substantive board."
Speaking to newsmen on their agitation against an NDDC sole administrator and why they carried out the action, Comrade Emonefe said: "We are saying enough of the politics being played with the NDDC and that Mr. President should do the right thing by putting in place a substantive board to fast-track development of the Niger Delta region.
"Today's protest is a warning protest as we will be coming out in 21 days to embark on a bigger protest that will shut-down the NDDC headquarters in Port-Harcourt and other agencies related to the NDDC to press home our demands.
"Urhobo is the major supporting ethnic nationality of President Buhari and his administration in the region and we welcome and support the forensic audit of the NDDC but we equally want the right things to be done in the commission."