1544 New Cases Of COVID-19 In Nigeria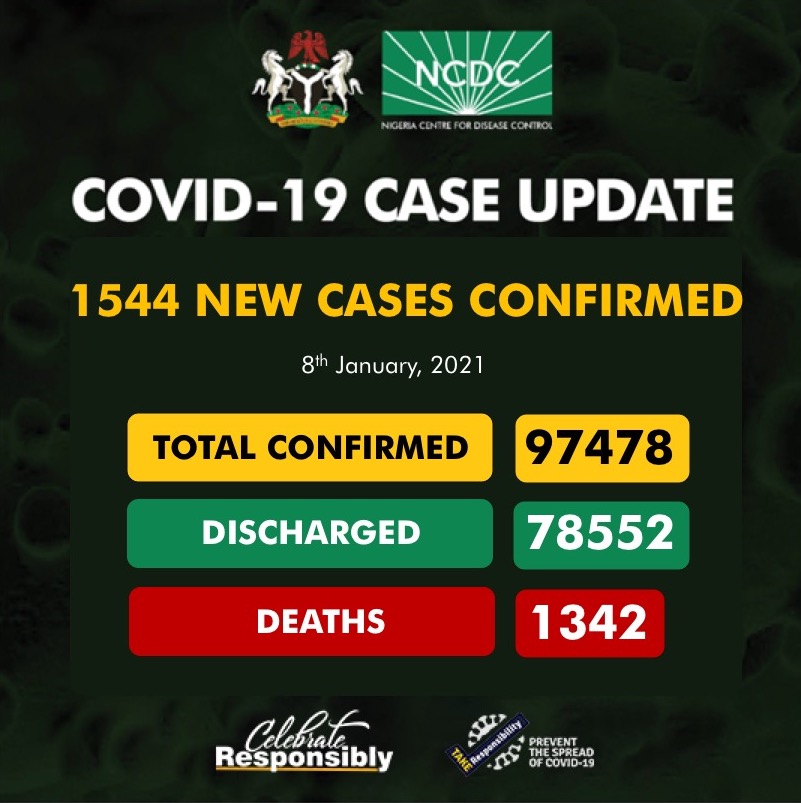 1544 new cases of COVID-19 in Nigeria on Friday as the pandemic continued to beat hard on the nation's commercial capital, Lagos.
There were 12 deaths associated with the pandemic across the country according to details on a twitter by the Nigeria Centre for Disease Control, NCDC.
The 1544 new cases of COVID-19 in Nigeria were recorded in 20 states of the country and the FCT.
GWG reports that the 1544 new cases in Nigeria on Friday represents the third highest number of daily new cases in the country. It follows the 1644 cases reported by the NCDC on Wednesday January 6, 2021 and the 1565 cases reported the following day on Thursday, January 7, 2021.
The new cases brought the total number of cases recorded in Nigeria to 97,478 confirmed cases out of which 78,552 have been discharged.
In the period there were 1,342 deaths.
Lagos had the highest number of new cases with 739 followed by Plateau with 168 and FCT with 153.
The breakdown of the 1544 new cases of COVID-19 in Nigeria on Friday, January 8, 2021 were as follows:
Lagos-739
Plateau-168
FCT-153
Oyo-91
Nasarawa-90
Rivers-80
Kaduna-35
Edo-33
Kano-29
Ogun-21
Delta-19
 Sokoto -16
Akwa Ibom-11
Ebonyi-11
Enugu-10
Osun-10
Niger-9
Bauchi-8
Kebbi-8
Katrina-2
Taraba-1
Meanwhile, the NCDC has reported discharges from across the country including "264 community recoveries in Lagos State and 147 community recoveries in Plateau State managed in line with guidelines."
With the 1544 new cases of COVID-19 in Nigeria, administration officials at both the federal and state levels are bound to express concern given the spike in the number of daily cases since the yuletide.
Nigeria government officials are warning that the prospects of a lockdown look inevitable if the number of daily cases are not swiftly brought down.