Iwuanyanwu: I Survived Abacha's Plots To Kill Me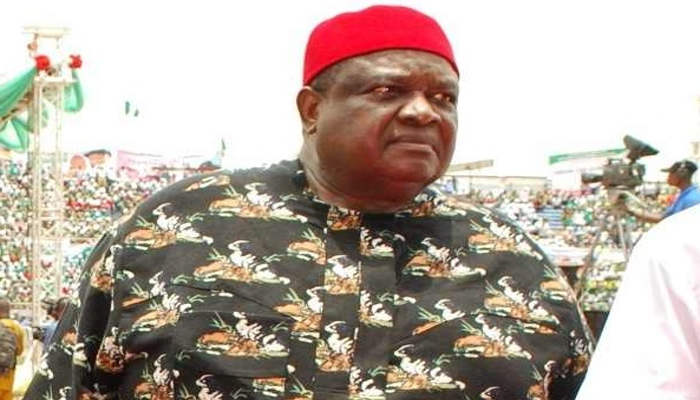 Chief Emmanuel Iwuanyanwu has opened up on secret plots orchestrated by the late General Sani Abacha's plots to kill him despite the undercover work he did for his regime locally and internationally.
Giving names of those who were either involved or helped him out, Iwuanyanwu, however, regretted that on one occasion a man was mistakenly attacked in Lagos after he, Iwuanaynwu pulled out of a trip from Lagos after being told of an attack against him.
Iwunanyanwu who spoke in an interview with Sunday Sun said:
"The only regret I have in politics is that it almost cost me my life, when Abacha came to power, he was a friend; the problem with this country is that Nigerians deceive our leaders.
"Ordinarily, Abacha was not as bad as people painted him, he was my friend, in fact, when he was serving the country, he invited me to serve in his cabinet, I told him I had so many businesses to attend to and he asked me to bring somebody.
"I first of all gave him Ihechukwu Madubike, incidentally he chose Idika Kalu from Abia; so, I had to replace Madubuike with Laz Unogu, late from Imo. Later on he brought in Madubike, so I had two people under that cabinet. I told him I would be running for president and he said he was going to support me, I didn't know he had an ambition, so we started a party; UNPP, I was one of the leaders.
"From there we started hearing rumour that he wanted to run for presidency, eventually people started advising him and writing petition against me that I was going to topple his government.
Noting how Abacha's plots to kill him started:
"In fact, there was a time I travelled to Chad, when my father died, the President of Chad visited me, then I decided to pay him a visit one weekend, I went in my private jet, I refuelled from Port Harcourt, had my duty clearance at Maiduguri, Ndjamena is not far from Maiduguri, so I spent the three days there and came back, people wrote report against me that I was using my aircraft to topple Abacha's government, even some of them were Igbo.
Noting how Abacha's plots to kill him were countered by those who knew his secret role in the government, he said
"So, the day I was to be arrested, they had sent signal, I just finished talking with his security adviser, they had planned to arrest me and take me to the SSS, one young boy who knows me there rushed to me and told me that they are coming to search my house, he said if they search me they will take me to Abuja, I was so fed up because I had been helping Abacha, he was even having problems with the Commonwealth, I used my international connection with some foreign heads of state, I remember then Emeka Anyaoku was the Secretary General, he helped me to have access to some of the heads of state, so I helped Abacha.
"It was there I met Bill Clinton. There's a man then who was a friend to Abacha's father, he knew all what I did then to Abacha, he (Abacha) told him that I wanted to topple his government, he advised Abacha to be careful, that I was his friend and he shouldn't mind people trying to deceive him. He said why not call him and find out why he wanted to topple your government.
"The same night, the same man who told me earlier about Abacha trying to arrest me, he was a director of Nigerian Breweries then, that's the man God used to save me, because if I had come that time, they would have killed me, another person used by God to save me that time was Femi Coker. There was a day I was flying from Abuja to Lagos in my private jet, I had entered the plane and we had been given clearance to take off, Femi Coker phoned me, he asked me; where are you, I told him I'm taking off, I'm going to Lagos and he said, stop, I said why, I just got clearance and he insisted I should stop, he said he was coming to see me, so I told my captain to switch off the engine and Femi Coker met me and told me that there was a plan to assassinate me in Lagos," the businessman politician said of Abacha's plot to kill him in Lagos.
"I later discovered that Diya's security must have helped him get that information, so, I cancelled the flight and he asked me to go to Owerri, in fact, they attacked a wrong person instead of me that time, it was when they were arrested that they were saying all sorts of rubbish. The day Abacha died, there are some people I would continue to remember, who were very useful to me, the Director of State Security at that time and owner of Gregory University; that is Gregory Ibe.
"They had access to security formation; apparently somebody close to me was giving every detail of my movements to Abacha. I was told that Abacha was to declare himself President on Friday, I held a meeting at Hilton Hotel with some of my friends and they told me to leave the country because when he declared himself president, they will arrest all of us and kill me, so we planned to leave, I told one of my boys, he arranged for me to cross the border, all I needed was just my credit card."
Observing that he subsequently chose to flee the country instead of falling into Abacha's plots to kill him, Iwuanyanwu said:
"I returned to Owerri on Friday, I was to leave on Monday morning, on Saturday, I called my wife and told her that I had made up my mind to leave the country, I thought she would be sad, but she was very happy, she said she had been thinking about me, she said she can manage with the children, she said she knew they were not targeting them, but me, so my wife, it was only my wife and my friend I trusted knew about my movement, we agreed on how I would move, I knew they were monitoring me,  I agreed I move with a car to Aba; from Aba to Calabar, from Calabar to another town, I was to go with three cars.
"So, after planning everything on Sunday; we went to church to worship, I put everything to God. To be honest with you, Abacha wasn't a bad man, he's being spoiled by some people; people spoil our leaders. Just like Buhari, people he appointed are supposed to help him and not deceive him, I know him, he is not corrupt, but you can see what is happening in the Niger Delta, so, you see, even if you put an angel as president, Nigerians will still spoil him.
"But there is one man I will never forget in my life, one man I will always be grateful to and that is General Jerry Useni; he's one of the closest friends to Abacha. When they were discrediting me before Abacha, he was the only person bold enough to tell Abacha the truth that I wasn't planning to topple the government, and I cannot because I don't have any need to do that."