Mum Collapses Under Dollar Rain As Regina Daniels Gifts Her Birthday Prado SUV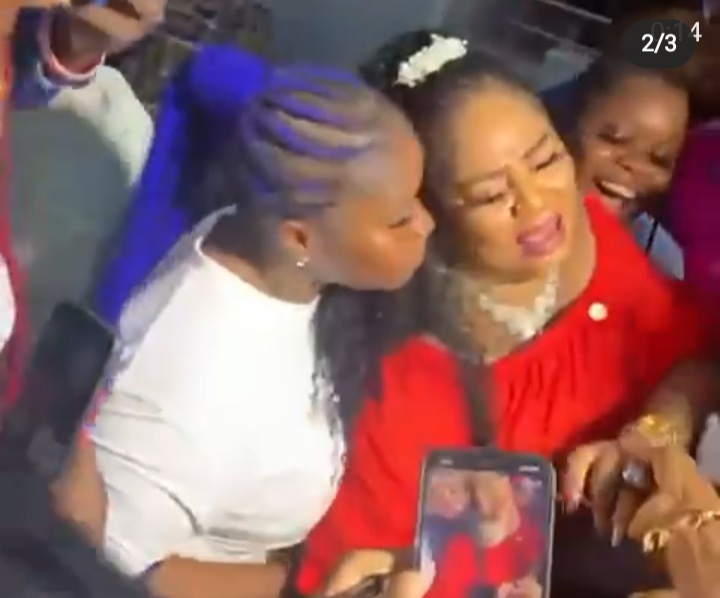 It was the birthday of Ms. Rita Daniels on Tuesday and her daughter, Ms. Regina Daniels, wife of billionaire politician and businessman, Ned Nwoko gifted her a N15 million Prado SUV.
The video of the presentation accompanied with dollar rain inside the vehicle and in a party arranged for her has attracted much felicitation from friends and foes.
Regina Daniels' associates in the film industry have praised the gesture among whom are Chioma Akpotha.
However, the claim by the actress that the N15m money came from her hard earned money is one that has ruffled some in social media.
Some also have used the opportunity to take a dig at Rita Daniels accusing her of trading off her teenage daughter to Ned Nwoko for the good things of life
GWG gathered some of the comments.
@truefeminist_wrote Hard earned money from Ned nwoko?
@im.tolu wrote "That's y she sold her to ned. She's reaping what she sold"
@realgee001 wrote "She's forming cry like this wasn't her goal all along"
@gad_in_a_human245 wrote "This was the reason she got married to a man old enough to be her father"
@nnenna_blinks_ wrote "Her Mother's hook up wasn't in vain after all"
@seun_ray wrote "Nah Weytin the mama want b that na why she give Ned"
@benzz_zzy wrote "na this one the mama dey find … congratulations to her though"
@officialsimeone wrote "Na the kind life she want"
@mademanyooo wrote "So this is what the shameless mother wants…..chai"
@aronz_______ wrote "This was what she wanted naa she don dey reap her wetin she sow"
@nurse_giftygabriel wrote "This was the agreement Rita entered with her daughter to be carried along. Congrats anyways"
petezslims_ wrote "Mama Regina Daniels has always being a drama Queen, congratulations"
debbyme_28 wrote "At last her maga don pay…Iya oko Bournvita"
Watch the video below;