Drama At Edo Election Petition Tribunal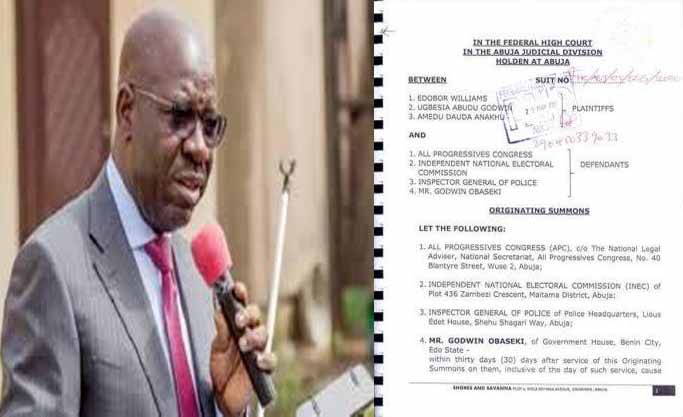 There was a mild drama on Thursday at the hearing of the petition filed by the New Nigeria Peoples Party (NNPP) and its candidate, Tracy Agol against INEC, Godwin Obaseki and the Peoples  Democratic Party (PDP) at the Edo Election Petition Tribunal when the petitioner abandoned her witness and the documents he came to tender.
The Petitioners had earlier applied to the Tribunal for a Subpoena, ordering the Registrar of the University of Ibadan to come in company of some documents and testify in respect of the petitioner's case on certificate forgery.
Present in court was a representative of the Registrar of the University, the Deputy Registrar (Legal), who was sworn on oath in the witness box.
In a sudden twist, counsel for the Petitioners, Mrs Stella Agoha informed the tribunal that she was no longer interested in the evidence the witness was subpoenaed to give in court.
Counsel for the respondents were unanimous in asking the court to order the petitioners to close their case, since they have abandoned their star witness and were not forthcoming in producing another witness, to save the time of the Edo Election Petition Tribunal.
In response, the Petitioner's counsel, Mrs Agoha asked for a stand down in the proceedings of the Tribunal for 30 minutes, to enable her call their last witness, a staff of the Independent National Electoral Commission (INEC), who was meant to tender some documents. The Tribunal granted the request for the stand down.
When the Tribunal resumed sitting, counsel for the petitioners informed the tribunal that the witness from INEC was unable to produce the documents and consequently informed the tribunal that the petitioners have closed their case.
Counsel for the 1st respondent (INEC), Razak Isenalumhe Esq, requested for an adjournment to enable him call their witness. The Edo Election Petition Tribunal adjourned the case to Monday, the 18th of January, 2021 for the 1st Respondent, (INEC) to open its case.