Why Buhari's Pigeons Refused To Fly – Nigerians
By Emmanuel Adig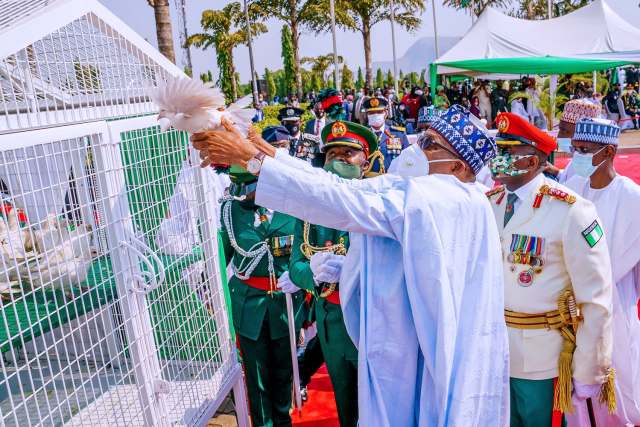 Leading critics of the Muhammadu Buhari regime were singing on Friday after ceremonial pigeons released by the president refused to fly despite repeated entreaties. Among them were Femi Fani-Kayode, Oby Ezekwesili and others who many of who gave reasons why Buhari's pigeons refused to fly.
Former minister of aviation, Fani Kayode, and former education minister, Dr. Ezekwesili were among the prominent Nigerians who commented on the development as the white pigeons released by the president during the Armed Forces Remembrance Day refused to fly.
President Buhari had opened the birdcage at the National Arcade, taken one of the doves, and thrown it into the air but the dove refused to fly as it landed atop the cage.
The president then opened the roof of the cage so that all the birds would fly out but that was not to be as the birds sat on top of the cage's roof.
President Buhari, exhausted, left the birds and went back to his seat but a few moments later, some of the birds flew.
GWG writes that the ritual of allowing doves to fly is to commemorate the life of those who have died and is popular at significant events like funerals or memorials. It also means peace.
Also, In 2014, the doves refused to fly after former President Goodluck Jonathan freed them and the Spiritual Director of the Adoration Ministry Enugu, Rev Fr. Ejike Mbaka, stated that the incident at the time indicated that God had abandoned Jonathan.
The refusal of the birds to fly on Friday elicited reactions on social media sparked thousands of comments on social media as Fani-Kayode, Ezekwesili and other social media commentators expressed their views on why Buhari's pigeons refused to fly.
GWG gathers some of the comments below:
Also explaining Why Buhari's Pigeons Refused To Fly were: