COVID-19: New Peak Of 1867 Daily Cases In Nigeria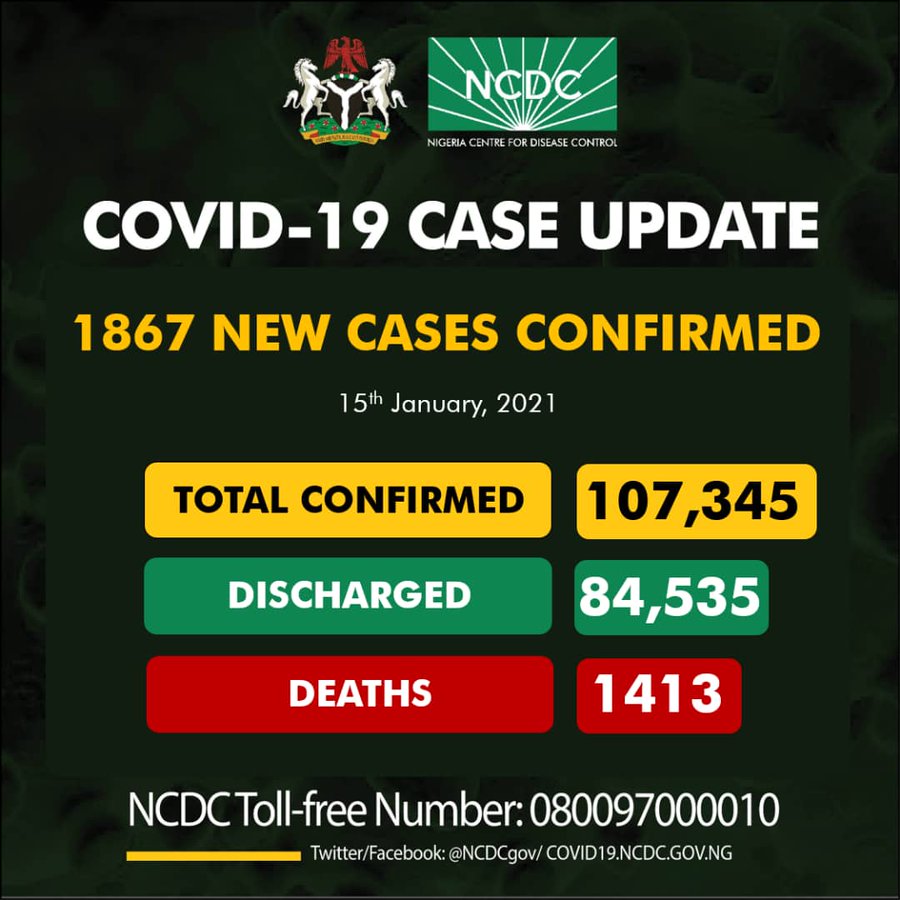 The COVID-19 pandemic worsened in Nigeria on Friday as a new peak of 1867 daily cases in Nigeria was announced by the Nigeria Centre for Disease Control, NCDC.
The new peak of 1867 daily cases in Nigeria brought the total number of confirmed cases in the country to 107,345 cases with 84,535 cases successfully discharged.
Eight mortalities in the period also brought the total number of mortalities to 1413.
GWG reports that the new peak of 1867 daily cases on Friday is the latest peak in daily cases in the incident of COVID-19  reported in the country.
The highest peak before was the 1664 new cases reported on January 6.
Lagos, the epicenter of the pandemic was the highest with 713 new cases followed by Plateau with 273 and FCT with 199 new cases.
The new peak of 1867 daily cases were reported in 23 states and the FCT as follow:
Lagos-713
Plateau-273
FCT-199
Kaduna-117
Oyo-79
Enugu-58
Ondo-53
Kano-49
Sokoto-43
Ogun-37
Osun-37
Nasarawa-36
Rivers-28
Benue-24
Delta-24
Niger-24
Gombe-18
Edo-15
Taraba-12
Bayelsa-10
Ekiti-9
Borno-6
Zamfara-2
Jigawa-1
Meanwhile, regardless of the new peak of 1867 daily cases in Nigeria, the Ogun State Government has directed all primary, secondary, as well as Government Science and Technical Colleges across the state to resume academic activities on Monday, Jan. 18.
Prof. Abayomi Arigbabu, the Commissioner for Ministry of Education, Science and Technology, gave the directive in a statement on Friday in Abeokuta.
Arigbabu appealed to parents, guardians, teachers, school administrators and other stakeholders, to ensure full compliance with all Coronavirus (COVID-19) protocols.
According to  the commissioner, it is compulsory for  all learners, teachers and non-teaching staff, to wear face masks at all times, as well as the use of infrared thermometer for temperature check.
He further explained that regular washing of hands with soap and water, use of hand sanitisers, observing social and physical distancing, should be maintained, while discouraging large gatherings such as assembly.
The commissioner's instruction was against the background of the new peak of 1867 daily cases reported in Nigeria. He also instructed that isolation rooms, health clinic/bay already created should be functional and regularly maintained.