Don't Blame Me, Okorocha Hits Uzodinma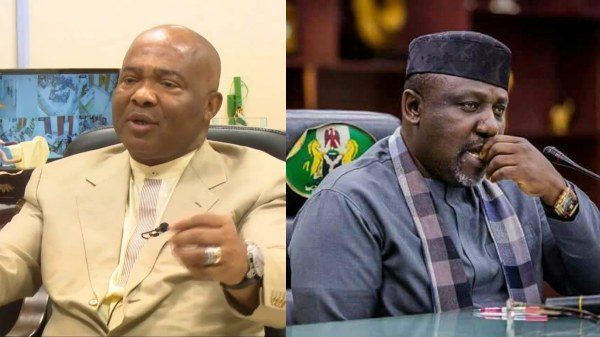 Senator Rochas Okorocha hitas charged Governor Hope Uzodinma to focus on his governance and not blame him for what he claimed as the low score supposedly passed on the new administration. Don't blame me, Okorocha told Uzodinma on Tuesday.
Reacting to a section of the media that scored the new governor low, Okorocha said it was time for Governor Uzodinma and his aides to stop what he termed as a blame game.
GWG reports that Governor Uzodinma has, however, against the claim of a low score been celebrating successes in several sectors including road construction flag offs, civil service reforms that have led to the payment of salaries and pensions to date.
Don't Blame Me, Okorocha Hits Uzodinma
However, chiding Governor Uzodinma, Okorocha in a statement issued by his media aide, Sam Onwuemeodo said:
"The truth is that, if after one year, the governor's handlers still brandish Okorocha's name as their only defence for the government's failure or ineptitude, then, something fundamental is obviously wrong with the administration.
"Governor Hope Uzodinma and his media apostles should stop the blame game. The blame game should have been over after the celebration of his one hundred days in office. But it has continued, even after one year. Indicating that there is no light at the end of the tunnel.
"The governor and his media disciples ought to have known by now that blame game or passing the buck, has become "Old School", belated or eccentric, with regard to administration.
"In Celebrating his own one year in office, Okorocha did not blame those who had been governor before him, including His Excellencies, Chiefs Achike Udenwa and Ikedi Ohakim. He rather listed what he had done with the mandate given to him by Imo people under one Year. He didn't pass the buck to his predecessors. But told Imo people what he had achieved in one year."