Angry Ngige In War Of Words With Obiano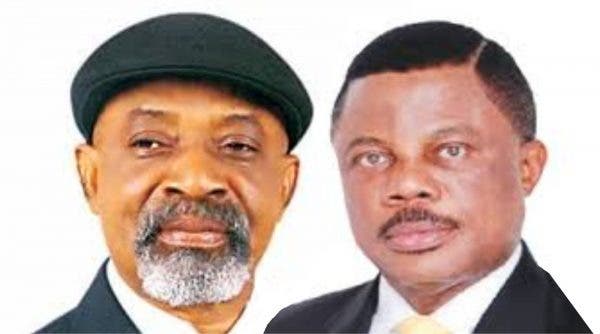 Dr. Chris Ngige on Tuesday lambasted Governor Willie Obiano over what he claimed as the rot in governance in Anambra State. The development led an angry Ngige a war of words with Obiano.
The minister of Labour and Employment, was in his hometown of Alor when he poured out his heart over what he claimed were the failures of Obiano who he alleged had failed in his responsibilities to his people.
"It is heartbreaking that this health centre is in this horrible state."
While lamenting that many roads in the state were dilapidated, he said that the few tarred by the governor had been washed away because they were poorly done.
"They cannot tar roads. The few they tarred had been washed away by floods. What Anambra people are riding on today are my roads built about 17 years ago.
"We built this structure (pointing to a hospital building) when I was the chairman of our people in Lagos in 1985/6. This one (pointing to another structure) I built it when I was in the Senate.
"The other one, I built it when I was governor. So, many developmental projects I want to bring to this place, they stopped it just because we have little misunderstanding in our community.
"Even the one we brought, they couldn't take care of it. Look at that building; it has been abandoned to rot.
"Obiano should wake up to his responsibilities. When I was here (as governor), I know what I was doing. Today, they are not doing them," said an angry Ngige in a war of words with Obiano.
Responding to the minister, Obiano speaking through the
Commissioner for Information and Public Enlightenment, Don Adinuba accused Ngige of embarking on political campaigns because the state is about to conduct its governorship election.
He said the administration had taken first in many sectors.
"Anambra State has won more laurels than Lagos State for our performance in primary healthcare delivery. We have never gone beyond the second position. It is either first or second," the governor said.