Okorocha's New Party: How He Was Pushed Out
By Chuks Ekpeneru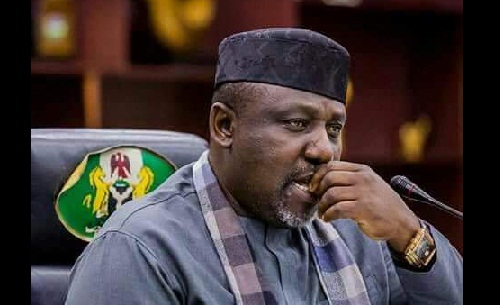 Former Imo State Governor Rochas Okorocha, may have begun a journey out of the ruling All Progressive Congress (APC) going with his recent pronouncements. After sojourns in PDP, ANPP, AA, APGA and APC, Okorocha's new party would be his sixth.
The one time Imo State APC strongman lost face with the party when he failed to impose his son in law, Uche Nwosu as his successor.
Till date, he has blamed ousted former National Chairman of the party, Adams Oshiomole for his predicament. However, Okorocha who is now the senator representing Imo West is aware that his traducers go beyond Oshiomole and have rightly positioned to deal more political blow to him.
Despite supporting Senator Hope Uzodinma who emerged governor of Imo State in controversial circumstances, Okorocha has still not found favour with his party which he helped found from the formative stage.
Recall that the APC was founded on February 6th, 2013, as a conglomerate of four opposition political parties namely, the Congress for Progressive Change (CPC); Action Congress of Nigeria (ACN); All Nigeria People's Party (ANPP) and faction of the All Progressive Grand Alliance (APGA) led by Mr Okorocha.
At home, Uzodinma is building his political empire, hence he is not in the mood to share the crumbs with the former governor. That has moved the narrative of Okorocha's new party.
Interestingly some of his political sons like his former Deputy-Governor, Prince Eze Madumere and Chief Emma Ibediro, who he fought aggressively to install as National Organizing Secretary in the sacked APC NWC have abandoned him for Uzodinma.
Even more, the national leadership of the party has sided with Uzodinma against Okorocha who caused the party's votes in the last General Election to be split with those of AA.
Therefore, the comment by Okorocha that the APC was hurriedly formed in 2013 to snatch power from the then ruling Peoples Democratic Party (PDP) reflects his anger with the party.
According to him "APC was a hurried arrangement formed to take power when the then government was drifting," the Imo West lawmaker said.
"APC would have been better until people who were not members of the party, people who came for a congratulatory message, hijacked the party and became lords.
"The issue is not about APC or PDP. It is beyond political parties. We are talking about the character of the politicians. Political parties in Nigeria don't have any ideology – it is just a vehicle to come to power.
"So, what we have is not the ideal thing. We have so many people who are not interested in working for the nation. For instance, if President Muhamamadu Buhari had surrounded himself with good people, the story would not be the same today.
"We have bad people in APC, just as we have them in PDP and that was why I made the call in Rivers state that the good ones should come together to lead the people," he added.
He therefore hinted that he and like minds may have agreed to take the destiny into their hands and seek fortune elsewhere. But the idea of Okorocha's new party
"The movement for a new Nigeria has begun and we must come together, I mean progressive Nigerians, to make the country work," the former governor who recently declared his party dead in Imo added.
A week earlier, he had been the Special guest of the Governor of Rivers State, Nyesom Ezenwo Wike where he was invited to commission Rumuche-Rumuakunde-Ohna Awuse Road in Emohua Local Government Area tomorrow, Monday 11, 2021.