How Amadi Was Haunted With Doctored Sex Tape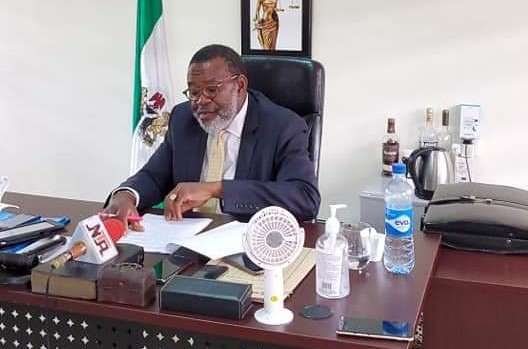 A 20-year old school leaver, Peter Nwoke has confessed how he simulated pictures of Chief Willie Amadi into a doctored sex tape to blackmail the Federal Commissioner in the Public Complaints Commission.
He confessed he merged pictures of Amadi in a swimming pool with those of ladies he got elsewhere to look like a sex scene.
Peter Nwoke had caused the simulated sex scene involving the top Federal Government official to go viral after he failed in his blackmail attempt against the government official.
He also confessed that Barrister Willie Amadi, gave him N40,000 after he first found and returned his phone.
However, greed for more money caused him to transfer pictures from Amadi's phone including one in which Amadi was in a swimming robe. He made the pictures into a doctored sex tape for his blackmail act.
Nwoke was on Thursday summarily tried and sentenced to one year imprisonment in charge No.MCI/2C/2021, between the Imo State Commissioner of Police VS Peter Nwoke.
In his statement of confession at the police station, he stated that he picked a phone at Owerri and left for his place in Isu LGA.
According to him a day after, when he powered the phone, he got a call from a man who introduced himself as Barr. Willie Amadi, saying that he was the owner of the phone he was holding.
How Amadi Was Blackmailed With Doctored Sex Tape
"I asked him to come to Umuogbor, Isuobishi, Isunjaba, in Isu LGA to collect the phone and he came, collected it and gave me #40,000. Before then, I had transferred some information from his phone to mine which included pictures he took in a swimming pool. "When he left, greed and the devil came into me. I thought I should make more money from him seeing his car and realizing that he is a big man. I decided to superimpose one of his pictures on a sex background to force him to negotiate settlement with me".
"When I called him severally and he didn't pick, I became angry and decided to send the pictures out through the internet. Three days later, I was with some friends at a joint when the police arrested me and I was taken to court.
"I confessed to the act at the police station because I didn't know that what I did will bring such big problems to me. I begged him and the court to forgive me and promised not to do such a thing again".
Upon the doctored sex tape that he circulated, he was found guilty of defamation under section 373 of criminal code, cap c38 laws of the Federation 2004 as applicable in Imo State.