Nigerians Join Okupe In War For Homosexual Son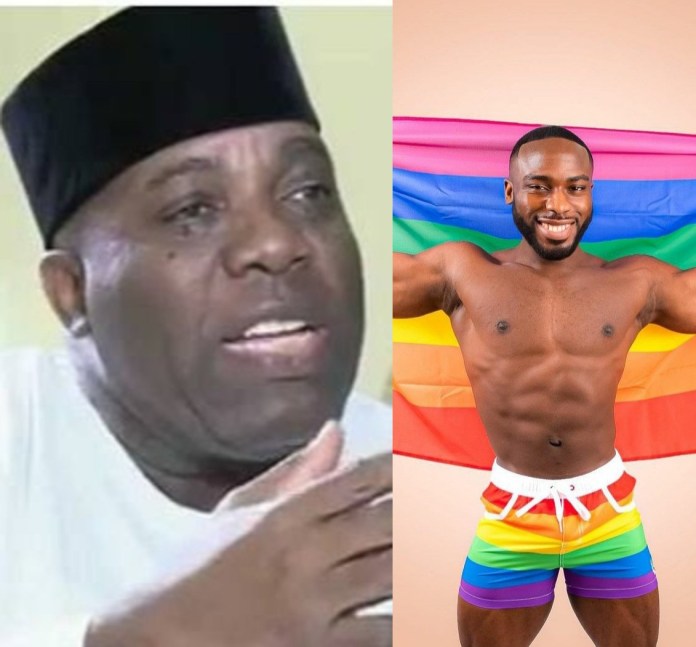 Strong support came the way of Doyin Okupe on Friday from Nigerians after he came out to acknowledge his son, Bolu who outed himself as a homosexual. Indeed many have pledged to join Okupe in war for his homosexual son.
Okupe in owning up his son, however, strongly rebuffed his sexual orientation which he saw as a departure from the Christian faith he, Bolu was born and raised in.
Dr. Okupe said he saw the development as a spiritual challenge which he said he would fight with the Lord as His banner.
GWG had reported that Bolu announced his sexual homosexual status on Thursday.
Dr. Okupe, who served as presidential aide in the Olusegun Obasanjo and Goodluck Jonathan administrations said:
"For me I look beyond the surface or the physical. Here I see a major spiritual challenge ahead but I know as my God liveth, this whole saga will end up in Praise to the Almighty Jehova who i serve day and night.
"For it is written: Behold, the hand of the Lord is not shortened that it cannot save, neither is His ear deaf that he cannot hear. Isaiah 59 vs 1."
Reacting to this development, some social media users took to their accounts to join the former presidential aide to ask for the intervention of God in the issue. GWG gathers some of their views below:
Nigerians Join Okupe In War For Homosexual Son
Oshaloto Joseph Tade wrote: "The Lord God Almighty will intervene in the mighty name of Jesus Christ. I'm trusting that you're mature enough in the Lord to not allow this to overwhelm you and the family. The Lord is faithful.
Joshua Fatai Omeiza wrote: "The Lord will show Himself strong in your behalf in Jesus' Name. I pray that God would show him mercy and bring your son to the saving knowledge of Jesus Christ."
Segun Durojaye wrote: "My prayers, my sympathy, and my understanding. Thanks for the courage. Thanks for the strength to own up to the fact that he is indeed your son. Thanks for your uncommon maturity."
Henry Chijioke wrote: "Take a strong heart sir, God knows your heart, see how you washed off your hands of such thing He calls abomination in His eyes. You have done your bit. He will do the rest and see you through sir. Shalom Child of ELOHIM!"
Olurotimi Adesegun Idowu wrote: "Just like the prodigal son, the Lord will restore him into Christian faith. You've acted as a good parent by not casting him away finally to the devil but seeing beyond the physical. The Almighty who is also a Restorer will deliver him IJN."
Femi Omidiji wrote: "This is quite touching..may God see you through..I can feel your pain sir…aww."
David Snr wrote: "Go on dry fasting for him, have your self naked at midnight for the 3 days and cry unto God for intervention. Remember, you shall be held accountable. God will answer your heart cry."
Jumoke Mshelbwala wrote: "Oh! You are indeed a loving father….When wicked people cannot get the father, they resort to disturbing or disrupting the children's path in life….With fasting and prayer, God Almighty will certainly give you victory. Your approach is highly commendable."
Myke Audu wrote: The Almighty God will intervene in this and it shall end in praise. Like you said it's beyond the physical. My heart is with you on this."
Others who also pledged to join Okupe in spirutual war for homosexual son included:
Alex Dapo Vera-Cruz wrote: "Don't worry sir, the battle is the Lord's He will surely fight on your behalf, just have faith in Him."
Macjoe Chimchetam wrote: "The Lord will restore your son to you sir. Keep the faith."
Muhammad Bello Musa Kudaru wrote: "I feel your pain, God is in charge. May God be with him & all his similar colleagues, amen. What a pity."
Collins Brown wrote: "Life's Vanity. U see, if its what money or connection can solve, I know u will solve it. But God has a way to remind to always fear him by showing us vanity in all we think we are. May God restore him.
Olatunde Christopher Olowo wrote: "Sir, don't be too sad. Just keep trusting the same Lord who gave you the child. I believe He (The Lord) will arrest him soon and change him for good."